Kevin Taylor
Profile
Kevin Taylor signed for Oldham shortly after his sixteenth birthday, having played for the Werneth club and having captained Oldham schoolboys to win the Lancashire Cup.
Originally understudy to Len McIntyre, he made his senior debut at Castleford in the harsh winter season of 1962-63.
The next couple of years were spent mostly in the "A" team, but once Kevin got an extended run in the senior side, he would hold down the Oldham hooking position for the next decade. He was also a good player in the loose, especially his support play which twice led to him being top try scorer, in 1966-67 and 1967-68.
Kevin was selected for the England Under 24 team against France in the match that was the first played under the new Watersheddings floodlights in October 1965, and went on to play for Lancashire and England. The full Great Britain international call up eluded him, yet week in and week out Kevin would rake out the ball on the Oldham side of the scrum against all his so-called peers.
A model of consistency, Kevin played his last game at Salford on January 2nd 1977 before moving on to Leigh. A great servant of the club and definitely one of the best hookers never to play for Great Britain!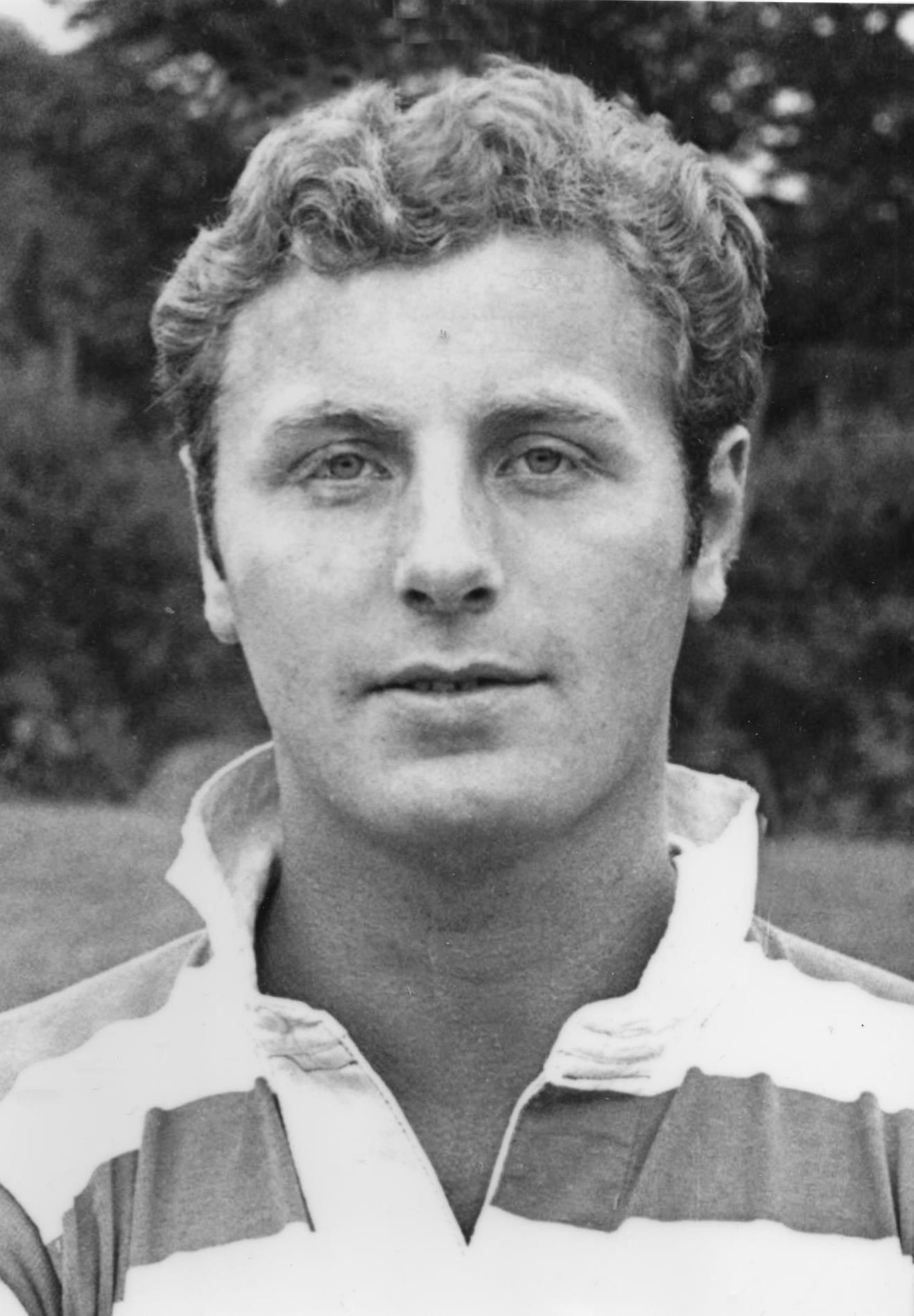 Career Games
| | | | |
| --- | --- | --- | --- |
| Castleford v Oldham | Away | April 27, 1963 | Division 1 |
| Oldham v Halifax | Home | May 18, 1963 | Division 1 |
| Oldham v Hull Kingston Rovers | Home | May 21, 1963 | Division 1 |
| Oldham v York | Home | November 9, 1963 | Division 2 |
| Bramley v Oldham | Away | December 7, 1963 | Division 2 |
| Oldham v Warrington | Home | October 24, 1964 | League Championship |
| Oldham v Barrow | Home | November 7, 1964 | League Championship |
| Huddersfield v Oldham | Away | November 14, 1964 | League Championship |
| Salford v Oldham | Away | November 28, 1964 | League Championship |
| Hunslet v Oldham | Away | December 5, 1964 | League Championship |
| Oldham v Hunslet | Home | January 2, 1965 | League Championship |
| Barrow v Oldham | Away | January 9, 1965 | League Championship |
| Oldham v Keighley | Home | February 13, 1965 | League Championship |
| Hull Kingston Rovers v Oldham | Away | April 24, 1965 | League Championship |
| Oldham v Warrington | Home | August 21, 1965 | League Championship |
| Whitehaven v Oldham | Away | August 25, 1965 | League Championship |
| Wigan v Oldham | Away | August 28, 1965 | League Championship |
| Oldham v New Zealand | Home | August 31, 1965 | Tour Match |
| Oldham v Blackpool Borough | Home | September 4, 1965 | League Championship |
| Oldham v Wigan | Home | October 22, 1965 | League Championship |
| Oldham v Liverpool City | Home | November 6, 1965 | League Championship |
| Salford v Oldham | Away | November 13, 1965 | League Championship |
| Oldham v Leeds | Home | November 20, 1965 | League Championship |
| Oldham v Castleford | Home | November 23, 1965 | BBC |
| Huddersfield v Oldham | Away | November 27, 1965 | League Championship |
| Leeds v Oldham | Away | December 11, 1965 | League Championship |
| Oldham v Widnes | Home | December 18, 1965 | League Championship |
| Hunslet v Oldham | Away | January 1, 1966 | League Championship |
| Oldham v St Helens | Home | January 8, 1966 | League Championship |
| Oldham v Hunslet | Home | February 1, 1966 | League Championship |
| Oldham v Halifax | Home | February 5, 1966 | League Championship |
| Warrington v Oldham | Away | February 9, 1966 | League Championship |
| Halifax v Oldham | Away | February 19, 1966 | League Championship |
| Liverpool City v Oldham | Away | March 12, 1966 | League Championship |
| Oldham v Swinton | Home | March 22, 1966 | League Championship |
| Oldham v Whitehaven | Home | March 26, 1966 | League Championship |
| Barrow v Oldham | Away | March 31, 1966 | League Championship |
| Swinton v Oldham | Away | April 8, 1966 | League Championship |
| Rochdale Hornets v Oldham | Away | April 11, 1966 | League Championship |
| Oldham v Barrow | Home | April 16, 1966 | League Championship |
| Leigh v Oldham | Away | April 22, 1966 | League Championship |
| Oldham v Workington Town | Home | April 23, 1966 | League Championship |
| Workington Town v Oldham | Away | April 30, 1966 | Top 16 |
| St Helens v Oldham | Away | May 7, 1966 | Top 16 |
| Rochdale Hornets v Oldham | Away | August 13, 1966 | Law Cup |
| Hull FC v Oldham | Away | August 20, 1966 | League Championship |
| Oldham v Blackpool Borough | Home | August 23, 1966 | League Championship |
| Oldham v Hull FC | Home | August 27, 1966 | League Championship |
| Oldham v Swinton | Home | September 2, 1966 | Lancashire Cup |
| Salford v Oldham | Away | September 9, 1966 | League Championship |
| Blackpool Borough v Oldham | Away | September 12, 1966 | League Championship |
| Salford v Oldham | Away | September 15, 1966 | Lancashire Cup |
| Oldham v Whitehaven | Home | September 17, 1966 | League Championship |
| Halifax v Oldham | Away | September 24, 1966 | League Championship |
| Blackpool Borough v Oldham | Away | September 27, 1966 | Lancashire Cup |
| Oldham v Wigan | Home | September 30, 1966 | League Championship |
| Oldham v Barrow | Home | October 4, 1966 | BBC |
| Liverpool City v Oldham | Away | October 8, 1966 | League Championship |
| Oldham v Rochdale Hornets | Home | October 14, 1966 | League Championship |
| Whitehaven v Oldham | Away | October 22, 1966 | League Championship |
| Wigan v Oldham | Neutral | October 29, 1966 | Lancashire Cup |
| Leeds v Oldham | Away | November 5, 1966 | League Championship |
| Oldham v Liverpool City | Home | November 11, 1966 | League Championship |
| Warrington v Oldham | Away | November 18, 1966 | League Championship |
| Widnes v Oldham | Away | November 22, 1966 | BBC |
| Oldham v Leeds | Home | November 25, 1966 | League Championship |
| Workington Town v Oldham | Away | December 3, 1966 | League Championship |
| Oldham v Barrow | Home | December 10, 1966 | League Championship |
| Leigh v Oldham | Away | December 14, 1966 | League Championship |
| Oldham v Leigh | Home | December 17, 1966 | League Championship |
| Huddersfield v Oldham | Away | December 24, 1966 | League Championship |
| Rochdale Hornets v Oldham | Away | December 27, 1966 | League Championship |
| Oldham v Warrington | Home | December 31, 1966 | League Championship |
| Barrow v Oldham | Away | January 14, 1967 | League Championship |
| Oldham v Salford | Home | January 21, 1967 | League Championship |
| St Helens v Oldham | Away | January 27, 1967 | League Championship |
| Huddersfield v Oldham | Away | February 4, 1967 | Rugby League Challenge Cup |
| Oldham v Workington Town | Home | February 11, 1967 | League Championship |
| Oldham v St Helens | Home | February 17, 1967 | League Championship |
| Oldham v Leeds | Home | February 25, 1967 | Rugby League Challenge Cup |
| Widnes v Oldham | Away | March 3, 1967 | League Championship |
| Oldham v Huddersfield | Home | March 11, 1967 | League Championship |
| Wigan v Oldham | Away | March 18, 1967 | League Championship |
| Swinton v Oldham | Away | March 24, 1967 | League Championship |
| Oldham v Widnes | Home | March 25, 1967 | League Championship |
| Oldham v Halifax | Home | March 27, 1967 | League Championship |
| Rochdale Hornets v Oldham | Away | March 31, 1967 | League Championship |
| Oldham v Swinton | Home | April 7, 1967 | League Championship |
| Swinton v Oldham | Away | April 15, 1967 | Top 16 |
| Oldham v Swinton | Home | April 18, 1967 | Top 16 |
| Blackpool Borough v Oldham | Away | August 12, 1967 | Friendly |
| Oldham v Liverpool City | Home | August 15, 1967 | League Championship |
| Oldham v Leigh | Home | August 19, 1967 | Lancashire Cup |
| Bradford Northern v Oldham | Away | August 23, 1967 | League Championship |
| Hull FC v Oldham | Away | August 26, 1967 | League Championship |
| Oldham v Whitehaven | Home | September 2, 1967 | League Championship |
| Oldham v Bradford Northern | Home | October 14, 1967 | League Championship |
| Salford v Oldham | Away | October 20, 1967 | League Championship |
| Oldham v Australia | Home | November 11, 1967 | Tour Match |
| Oldham v Salford | Home | November 13, 1967 | League Championship |
| Widnes v Oldham | Away | November 17, 1967 | League Championship |
| Oldham v Hull FC | Home | November 25, 1967 | League Championship |
| Liverpool City v Oldham | Away | December 2, 1967 | League Championship |
| St Helens v Oldham | Away | December 16, 1967 | League Championship |
| Swinton v Oldham | Away | December 26, 1967 | League Championship |
| Oldham v Barrow | Home | December 30, 1967 | League Championship |
| Workington Town v Oldham | Away | January 1, 1968 | League Championship |
| Batley v Oldham | Away | January 6, 1968 | League Championship |
| Oldham v St Helens | Home | January 20, 1968 | League Championship |
| Wigan v Oldham | Away | January 22, 1968 | League Championship |
| Barrow v Oldham | Away | January 26, 1968 | League Championship |
| Hunslet v Oldham | Away | February 3, 1968 | Rugby League Challenge Cup |
| Oldham v Batley | Home | February 14, 1968 | League Championship |
| Oldham v Widnes | Home | February 17, 1968 | League Championship |
| Bradford Northern v Oldham | Away | February 24, 1968 | Rugby League Challenge Cup |
| Oldham v Bradford Northern | Home | February 29, 1968 | Rugby League Challenge Cup |
| Oldham v Workington Town | Home | March 9, 1968 | League Championship |
| Oldham v Leeds | Home | March 16, 1968 | Rugby League Challenge Cup |
| Oldham v Leigh | Home | March 29, 1968 | League Championship |
| Hull Kingston Rovers v Oldham | Away | April 6, 1968 | League Championship |
| Oldham v Warrington | Home | April 8, 1968 | League Championship |
| Oldham v Swinton | Home | April 12, 1968 | League Championship |
| Oldham v Blackpool Borough | Home | August 10, 1968 | Friendly |
| Huddersfield v Oldham | Away | August 17, 1968 | League Championship |
| Oldham v Blackpool Borough | Home | August 19, 1968 | League Championship |
| Oldham v Featherstone Rovers | Home | August 24, 1968 | League Championship |
| Rochdale Hornets v Oldham | Away | August 28, 1968 | League Championship |
| Workington Town v Oldham | Away | August 31, 1968 | League Championship |
| Rochdale Hornets v Oldham | Away | September 6, 1968 | Lancashire Cup |
| Blackpool Borough v Oldham | Away | September 9, 1968 | League Championship |
| Hunslet v Oldham | Away | September 14, 1968 | League Championship |
| Oldham v Workington Town | Home | September 16, 1968 | Lancashire Cup |
| Oldham v Wigan | Home | September 21, 1968 | League Championship |
| Doncaster v Oldham | Away | September 28, 1968 | League Championship |
| Oldham v Huddersfield | Home | October 5, 1968 | League Championship |
| Salford v Oldham | Away | October 9, 1968 | Lancashire Cup |
| Featherstone Rovers v Oldham | Away | October 12, 1968 | League Championship |
| Rochdale Hornets v Oldham | Away | October 15, 1968 | BBC |
| Oldham v Widnes | Home | October 19, 1968 | League Championship |
| St Helens v Oldham | Neutral | October 25, 1968 | Lancashire Cup |
| Salford v Oldham | Away | October 30, 1968 | League Championship |
| Wigan v Oldham | Away | November 9, 1968 | League Championship |
| Oldham v Warrington | Home | November 15, 1968 | League Championship |
| Whitehaven v Oldham | Away | December 1, 1968 | League Championship |
| Oldham v Hunslet | Home | December 7, 1968 | League Championship |
| Widnes v Oldham | Away | December 20, 1968 | League Championship |
| Oldham v Whitehaven | Home | December 22, 1968 | League Championship |
| Oldham v Huyton | Home | January 4, 1969 | League Championship |
| Warrington v Oldham | Away | January 8, 1969 | League Championship |
| Huyton v Oldham | Away | January 11, 1969 | League Championship |
| Oldham v Salford | Home | January 18, 1969 | League Championship |
| Oldham v Hull Kingston Rovers | Home | January 25, 1969 | Rugby League Challenge Cup |
| Leigh v Oldham | Away | February 1, 1969 | League Championship |
| Oldham v St Helens | Home | February 25, 1969 | Rugby League Challenge Cup |
| Oldham v Workington Town | Home | March 1, 1969 | League Championship |
| Oldham v Leigh | Home | March 3, 1969 | League Championship |
| Oldham v Barrow | Home | March 8, 1969 | League Championship |
| Oldham v Swinton | Home | March 11, 1969 | League Championship |
| St Helens v Oldham | Away | March 28, 1969 | League Championship |
| Swinton v Oldham | Away | April 4, 1969 | League Championship |
| Oldham v Rochdale Hornets | Home | April 7, 1969 | League Championship |
| Barrow v Oldham | Away | April 11, 1969 | League Championship |
| Oldham v St Helens | Home | April 15, 1969 | League Championship |
| Oldham v Doncaster | Home | April 17, 1969 | League Championship |
| Leeds v Oldham | Away | April 25, 1969 | League Championship |
| Halifax v Oldham | Away | August 2, 1969 | Friendly |
| Oldham v Blackpool Borough | Home | August 9, 1969 | Friendly |
| Oldham v Swinton | Home | August 16, 1969 | Lancashire Cup |
| Oldham v Salford | Home | August 19, 1969 | League Championship |
| Oldham v Warrington | Home | August 23, 1969 | League Championship |
| Workington Town v Oldham | Away | August 30, 1969 | League Championship |
| Oldham v Keighley | Home | September 6, 1969 | League Championship |
| Blackpool Borough v Oldham | Away | September 8, 1969 | League Championship |
| Wigan v Oldham | Away | September 13, 1969 | League Championship |
| Oldham v Huyton | Home | September 20, 1969 | League Championship |
| Oldham v Rochdale Hornets | Home | September 22, 1969 | League Championship |
| Warrington v Oldham | Away | September 26, 1969 | League Championship |
| Oldham v Workington Town | Home | October 4, 1969 | League Championship |
| Keighley v Oldham | Away | October 11, 1969 | League Championship |
| Oldham v Rochdale Hornets | Home | October 13, 1969 | BBC |
| Barrow v Oldham | Away | October 24, 1969 | League Championship |
| Oldham v Whitehaven | Home | November 1, 1969 | League Championship |
| Leigh v Oldham | Away | November 8, 1969 | League Championship |
| Wigan v Oldham | Away | November 11, 1969 | BBC |
| Oldham v Widnes | Home | November 16, 1969 | League Championship |
| St Helens v Oldham | Away | November 22, 1969 | League Championship |
| Oldham v Wigan | Home | December 13, 1969 | League Championship |
| Swinton v Oldham | Away | December 26, 1969 | League Championship |
| Oldham v Huddersfield | Home | January 10, 1970 | League Championship |
| Huddersfield v Oldham | Away | January 17, 1970 | League Championship |
| Oldham v Barrow | Home | January 24, 1970 | League Championship |
| Whitehaven v Oldham | Away | January 31, 1970 | League Championship |
| Oldham v Blackpool Borough | Home | February 7, 1970 | Rugby League Challenge Cup |
| Oldham v Wigan | Home | February 21, 1970 | Rugby League Challenge Cup |
| Salford v Oldham | Away | February 27, 1970 | League Championship |
| Widnes v Oldham | Away | March 13, 1970 | League Championship |
| Batley v Oldham | Away | March 15, 1970 | League Championship |
| Huyton v Oldham | Away | March 18, 1970 | League Championship |
| Oldham v Blackpool Borough | Home | March 23, 1970 | League Championship |
| Oldham v Swinton | Home | March 27, 1970 | League Championship |
| Rochdale Hornets v Oldham | Away | March 28, 1970 | League Championship |
| Oldham v Bradford Northern | Home | April 3, 1970 | League Championship |
| Oldham v St Helens | Home | April 6, 1970 | League Championship |
| Oldham v Leigh | Home | April 10, 1970 | League Championship |
| Oldham v Batley | Home | April 15, 1970 | League Championship |
| Oldham v Halifax | Home | August 8, 1970 | Friendly |
| Oldham v Huddersfield | Home | August 15, 1970 | Friendly |
| York v Oldham | Away | August 22, 1970 | League Championship |
| Oldham v Hunslet | Home | August 26, 1970 | League Championship |
| Oldham v Salford | Home | August 29, 1970 | Lancashire Cup |
| Huddersfield v Oldham | Away | September 2, 1970 | League Championship |
| Barrow v Oldham | Away | September 5, 1970 | League Championship |
| Blackpool Borough v Oldham | Away | September 7, 1970 | League Championship |
| Oldham v Bramley | Home | September 12, 1970 | League Championship |
| Doncaster v Oldham | Away | September 19, 1970 | League Championship |
| Oldham v Whitehaven | Home | September 21, 1970 | League Championship |
| Oldham v Dewsbury | Home | September 26, 1970 | League Championship |
| Whitehaven v Oldham | Away | September 30, 1970 | League Championship |
| Oldham v York | Home | October 10, 1970 | League Championship |
| Huyton v Oldham | Away | October 17, 1970 | League Championship |
| Huddersfield v Oldham | Away | October 23, 1970 | BBC |
| Oldham v Wakefield Trinity | Home | October 26, 1970 | League Championship |
| Oldham v Blackpool Borough | Home | November 2, 1970 | League Championship |
| Wakefield Trinity v Oldham | Away | November 14, 1970 | League Championship |
| Oldham v Keighley | Home | November 21, 1970 | League Championship |
| Batley v Oldham | Away | November 29, 1970 | League Championship |
| Warrington v Oldham | Away | December 12, 1970 | League Championship |
| Oldham v Barrow | Home | December 19, 1970 | League Championship |
| Rochdale Hornets v Oldham | Away | December 26, 1970 | League Championship |
| Oldham v Huyton | Home | January 9, 1971 | League Championship |
| Oldham v Batley | Home | January 16, 1971 | League Championship |
| Leeds v Oldham | Away | January 23, 1971 | Rugby League Challenge Cup |
| Halifax v Oldham | Away | January 30, 1971 | League Championship |
| Keighley v Oldham | Away | February 6, 1971 | League Championship |
| Oldham v Huddersfield | Home | February 10, 1971 | League Championship |
| Oldham v Warrington | Home | February 13, 1971 | League Championship |
| Oldham v Halifax | Home | February 24, 1971 | League Championship |
| Dewsbury v Oldham | Away | March 13, 1971 | League Championship |
| Oldham v Workington Town | Home | March 17, 1971 | League Championship |
| Oldham v Doncaster | Home | March 20, 1971 | League Championship |
| Oldham v Rochdale Hornets | Home | April 9, 1971 | League Championship |
| Hunslet v Oldham | Away | April 10, 1971 | League Championship |
| Bramley v Oldham | Away | April 17, 1971 | League Championship |
| Wigan v Oldham | Away | April 23, 1971 | League Championship |
| Swinton v Oldham | Away | August 8, 1971 | Lancashire Cup |
| Oldham v Barrow | Home | August 21, 1971 | League Championship |
| Swinton v Oldham | Away | August 25, 1971 | League Championship |
| Hunslet v Oldham | Away | August 28, 1971 | League Championship |
| Oldham v Leeds | Home | September 1, 1971 | League Championship |
| Oldham v Wigan | Home | September 8, 1971 | League Championship |
| Rochdale Hornets v Oldham | Away | September 15, 1971 | BBC |
| Oldham v Huyton | Home | September 19, 1971 | League Championship |
| Widnes v Oldham | Away | September 24, 1971 | League Championship |
| Oldham v Rochdale Hornets | Home | September 29, 1971 | BBC |
| Oldham v Featherstone Rovers | Home | October 2, 1971 | League Championship |
| Wigan v Oldham | Away | October 8, 1971 | League Championship |
| St Helens v Oldham | Away | October 18, 1971 | League Championship |
| Oldham v Blackpool Borough | Home | October 23, 1971 | League Championship |
| Oldham v New Zealand | Home | October 27, 1971 | Tour Match |
| Oldham v Widnes | Home | October 30, 1971 | League Championship |
| Oldham v Hunslet | Home | November 6, 1971 | League Championship |
| Whitehaven v Oldham | Away | November 14, 1971 | Players No.6 Cup |
| York v Oldham | Away | November 21, 1971 | League Championship |
| Oldham v Leigh | Home | November 28, 1971 | John Players Top Tries |
| Oldham v St Helens | Home | December 4, 1971 | League Championship |
| Oldham v Bradford Northern | Home | December 12, 1971 | League Championship |
| Bradford Northern v Oldham | Away | December 19, 1971 | League Championship |
| Oldham v Rochdale Hornets | Home | December 27, 1971 | League Championship |
| Barrow v Oldham | Away | January 1, 1972 | League Championship |
| Oldham v Swinton | Home | January 8, 1972 | League Championship |
| Whitehaven v Oldham | Away | January 15, 1972 | League Championship |
| Featherstone Rovers v Oldham | Away | January 22, 1972 | League Championship |
| Oldham v St Helens | Home | January 29, 1972 | Rugby League Challenge Cup |
| Oldham v Bramley | Home | February 5, 1972 | League Championship |
| Warrington v Oldham | Away | February 12, 1972 | League Championship |
| Blackpool Borough v Oldham | Away | February 26, 1972 | League Championship |
| Oldham v Doncaster | Home | March 4, 1972 | League Championship |
| Oldham v York | Home | March 11, 1972 | League Championship |
| Doncaster v Oldham | Away | March 18, 1972 | League Championship |
| Rochdale Hornets v Oldham | Away | March 22, 1972 | League Championship |
| Oldham v Whitehaven | Home | March 25, 1972 | League Championship |
| Oldham v Warrington | Home | April 5, 1972 | League Championship |
| Bramley v Oldham | Away | April 10, 1972 | League Championship |
| Huyton v Oldham | Away | April 13, 1972 | League Championship |
| Wigan v Oldham | Away | April 22, 1972 | League Championship |
| Oldham v Rochdale Hornets | Home | August 12, 1972 | Law Cup |
| Huddersfield v Oldham | Away | August 19, 1972 | League Championship |
| Oldham v Whitehaven | Home | August 23, 1972 | League Championship |
| Oldham v Workington Town | Home | August 26, 1972 | League Championship |
| York v Oldham | Away | August 28, 1972 | League Championship |
| Salford v Oldham | Away | September 1, 1972 | Lancashire Cup |
| Oldham v Hull FC | Home | September 10, 1972 | League Championship |
| Huyton v Oldham | Away | September 17, 1972 | League Championship |
| Hull FC v Oldham | Away | September 24, 1972 | Players No.6 Cup |
| Oldham v Salford | Home | October 3, 1972 | BBC |
| Oldham v St Helens | Home | October 7, 1972 | League Championship |
| Workington Town v Oldham | Away | October 14, 1972 | League Championship |
| Oldham v Great Britain | Home | October 18, 1972 | Friendly |
| Oldham v Widnes | Home | October 21, 1972 | League Championship |
| Oldham v Huddersfield | Home | November 4, 1972 | League Championship |
| Oldham v Castleford | Home | November 7, 1972 | BBC |
| Oldham v Huyton | Home | November 12, 1972 | League Championship |
| Hull FC v Oldham | Away | November 17, 1972 | League Championship |
| Oldham v Wigan | Home | November 25, 1972 | League Championship |
| St Helens v Oldham | Away | December 1, 1972 | League Championship |
| Leigh v Oldham | Away | December 5, 1972 | BBC |
| Oldham v Salford | Home | December 13, 1972 | League Championship |
| Dewsbury v Oldham | Away | December 17, 1972 | League Championship |
| Oldham v Leigh | Home | December 24, 1972 | League Championship |
| Rochdale Hornets v Oldham | Away | December 26, 1972 | League Championship |
| Warrington v Oldham | Away | December 31, 1972 | League Championship |
| Whitehaven v Oldham | Away | January 6, 1973 | League Championship |
| Oldham v York | Home | January 14, 1973 | League Championship |
| Barrow v Oldham | Away | January 19, 1973 | League Championship |
| Oldham v Barrow | Home | January 28, 1973 | Rugby League Challenge Cup |
| Leigh v Oldham | Away | February 4, 1973 | League Championship |
| Oldham v Blackpool Borough | Home | February 11, 1973 | League Championship |
| Hull FC v Oldham | Away | February 17, 1973 | Rugby League Challenge Cup |
| Widnes v Oldham | Away | February 25, 1973 | League Championship |
| Castleford v Oldham | Away | March 3, 1973 | Rugby League Challenge Cup |
| Oldham v Barrow | Home | March 11, 1973 | League Championship |
| Blackpool Borough v Oldham | Away | March 18, 1973 | League Championship |
| Oldham v Warrington | Home | March 21, 1973 | League Championship |
| Oldham v Dewsbury | Home | April 1, 1973 | League Championship |
| Oldham v Swinton | Home | April 8, 1973 | League Championship |
| Salford v Oldham | Away | April 13, 1973 | League Championship |
| Swinton v Oldham | Away | April 21, 1973 | League Championship |
| Oldham v Rochdale Hornets | Home | April 23, 1973 | League Championship |
| Dewsbury v Oldham | Away | April 29, 1973 | League Championship |
| Rochdale Hornets v Oldham | Away | August 12, 1973 | Law Cup |
| Leeds v Oldham | Away | August 18, 1973 | Division 1 |
| Oldham v Dewsbury | Home | August 25, 1973 | Division 1 |
| Oldham v Wigan | Home | September 1, 1973 | Lancashire Cup |
| Oldham v Bramley | Home | September 8, 1973 | Division 1 |
| Oldham v Wigan | Home | September 11, 1973 | BBC |
| Warrington v Oldham | Away | September 16, 1973 | Players No.6 Cup |
| Wigan v Oldham | Away | September 18, 1973 | BBC |
| Wakefield Trinity v Oldham | Away | September 23, 1973 | Division 1 |
| Wigan v Oldham | Away | September 29, 1973 | Division 1 |
| Oldham v Whitehaven | Home | October 6, 1973 | Division 1 |
| Oldham v Rochdale Hornets | Home | October 10, 1973 | BBC |
| Dewsbury v Oldham | Away | October 14, 1973 | Division 1 |
| Oldham v Australia | Home | October 19, 1973 | Tour Match |
| Oldham v Castleford | Home | October 24, 1973 | Division 1 |
| Oldham v Featherstone Rovers | Home | November 7, 1973 | Division 1 |
| Oldham v Widnes | Home | November 11, 1973 | Division 1 |
| Oldham v Wigan | Home | November 25, 1973 | Division 1 |
| Oldham v St Helens | Home | December 8, 1973 | Division 1 |
| Featherstone Rovers v Oldham | Away | December 15, 1973 | Division 1 |
| Oldham v Leigh | Home | December 23, 1973 | Division 1 |
| Oldham v Rochdale Hornets | Home | December 26, 1973 | Division 1 |
| Whitehaven v Oldham | Away | December 30, 1973 | Division 1 |
| Salford v Oldham | Away | January 1, 1974 | Division 1 |
| Oldham v Hull Kingston Rovers | Home | January 6, 1974 | Division 1 |
| Leigh v Oldham | Away | January 13, 1974 | Division 1 |
| Oldham v Warrington | Home | January 20, 1974 | Division 1 |
| Salford v Oldham | Away | February 3, 1974 | Rugby League Challenge Cup |
| Bramley v Oldham | Away | February 10, 1974 | Division 1 |
| Oldham v Wakefield Trinity | Home | February 16, 1974 | Division 1 |
| Oldham v Leeds | Home | March 3, 1974 | Division 1 |
| Widnes v Oldham | Away | March 17, 1974 | Division 1 |
| Hull Kingston Rovers v Oldham | Away | March 24, 1974 | Division 1 |
| Warrington v Oldham | Away | March 29, 1974 | Division 1 |
| St Helens v Oldham | Away | March 31, 1974 | Division 1 |
| Oldham v Rochdale Hornets | Home | August 17, 1974 | Law Cup |
| Oldham v Blackpool Borough | Home | August 24, 1974 | Division 2 |
| Oldham v Widnes | Home | September 1, 1974 | Lancashire Cup |
| Blackpool Borough v Oldham | Away | September 8, 1974 | Division 2 |
| Oldham v Hull Kingston Rovers | Home | September 10, 1974 | BBC |
| Oldham v Huddersfield | Home | September 14, 1974 | Division 2 |
| Hull Kingston Rovers v Oldham | Away | September 17, 1974 | BBC |
| Hull Kingston Rovers v Oldham | Away | September 20, 1974 | Division 2 |
| Oldham v Workington Town | Home | September 29, 1974 | Players No.6 Cup |
| New Hunslet v Oldham | Away | October 6, 1974 | Division 2 |
| Oldham v Hull FC | Home | October 12, 1974 | Division 2 |
| Whitehaven v Oldham | Away | October 18, 1974 | Division 2 |
| Oldham v Huyton | Home | October 26, 1974 | Division 2 |
| Swinton v Oldham | Away | November 3, 1974 | Division 2 |
| Oldham v Bradford Northern | Home | November 9, 1974 | Players No.6 Cup |
| Huyton v Oldham | Away | December 29, 1974 | Division 2 |
| Oldham v New Hunslet | Home | January 5, 1975 | Division 2 |
| Oldham v Doncaster | Home | January 12, 1975 | Division 2 |
| Barrow v Oldham | Away | January 17, 1975 | Division 2 |
| Oldham v Swinton | Home | February 2, 1975 | Division 2 |
| Oldham v Blackpool Borough | Home | February 9, 1975 | Rugby League Challenge Cup |
| Leigh v Oldham | Away | February 16, 1975 | Division 2 |
| Rochdale Hornets v Oldham | Away | February 23, 1975 | Rugby League Challenge Cup |
| Oldham v Rochdale Hornets | Home | February 26, 1975 | Rugby League Challenge Cup |
| Oldham v Whitehaven | Home | March 2, 1975 | Division 2 |
| Oldham v Widnes | Home | March 9, 1975 | Rugby League Challenge Cup |
| Oldham v Leigh | Home | March 15, 1975 | Division 2 |
| Batley v Oldham | Away | March 23, 1975 | Division 2 |
| Oldham v Barrow | Home | April 6, 1975 | Division 2 |
| Hull FC v Oldham | Away | April 20, 1975 | Division 2 |
| Oldham v England | Home | April 22, 1975 | Benefit Match |
| St Helens v Oldham | Away | April 25, 1975 | Premiership |
| Rochdale Hornets v Oldham | Away | August 10, 1975 | Law Cup |
| Oldham v Keighley | Home | August 24, 1975 | Division 1 |
| Oldham v St Helens | Home | August 31, 1975 | Lancashire Cup |
| Featherstone Rovers v Oldham | Away | September 7, 1975 | Division 1 |
| Huyton v Oldham | Away | September 28, 1975 | Players No.6 Cup |
| Oldham v Widnes | Home | September 30, 1975 | BBC |
| Oldham v Huddersfield | Home | October 12, 1975 | Division 1 |
| Leeds v Oldham | Away | October 18, 1975 | Division 1 |
| Wakefield Trinity v Oldham | Away | October 26, 1975 | Division 1 |
| Oldham v Dewsbury | Home | November 2, 1975 | Division 1 |
| Oldham v Australia | Home | November 4, 1975 | Centenary Match |
| Salford v Oldham | Away | November 9, 1975 | Players No.6 Cup |
| Oldham v Dewsbury | Home | November 11, 1975 | BBC |
| Oldham v Salford | Home | November 16, 1975 | Division 1 |
| Oldham v St Helens | Home | December 14, 1975 | Division 1 |
| Bradford Northern v Oldham | Away | December 21, 1975 | Division 1 |
| Oldham v Swinton | Home | December 26, 1975 | Division 1 |
| Salford v Oldham | Away | January 1, 1976 | Division 1 |
| Oldham v Castleford | Home | January 4, 1976 | Division 1 |
| Oldham v Hull Kingston Rovers | Home | January 11, 1976 | Division 1 |
| Dewsbury v Oldham | Away | January 18, 1976 | Division 1 |
| St Helens v Oldham | Away | February 8, 1976 | Division 1 |
| Huyton v Oldham | Away | February 15, 1976 | Rugby League Challenge Cup |
| Wigan v Oldham | Away | February 22, 1976 | Division 1 |
| Oldham v York | Home | February 29, 1976 | Rugby League Challenge Cup |
| Oldham v Wakefield Trinity | Home | March 7, 1976 | Division 1 |
| St Helens v Oldham | Away | March 14, 1976 | Rugby League Challenge Cup |
| Widnes v Oldham | Away | March 21, 1976 | Division 1 |
| Oldham v St Helens | Home | March 24, 1976 | Division 1 |
| Warrington v Oldham | Away | March 30, 1976 | Division 1 |
| Castleford v Oldham | Away | April 2, 1976 | Division 1 |
| Oldham v Featherstone Rovers | Home | April 4, 1976 | Division 1 |
| Oldham v Warrington | Home | April 7, 1976 | Division 1 |
| Oldham v Bradford Northern | Home | April 11, 1976 | Division 1 |
| Hull Kingston Rovers v Oldham | Away | April 16, 1976 | Division 1 |
| Swinton v Oldham | Away | April 19, 1976 | Division 1 |
| Oldham v Widnes | Home | April 25, 1976 | Division 1 |
| Oldham v Rochdale Hornets | Home | August 15, 1976 | Law Cup |
| Blackpool Borough v Oldham | Away | August 22, 1976 | Lancashire Cup |
| Widnes v Oldham | Away | September 5, 1976 | Division 1 |
| Oldham v Leeds | Home | September 12, 1976 | Division 1 |
| Leigh v Oldham | Away | September 19, 1976 | Division 1 |
| Oldham v Wigan | Home | September 26, 1976 | Division 1 |
| Wakefield Trinity v Oldham | Away | October 3, 1976 | Division 1 |
| Whitehaven v Oldham | Away | October 5, 1976 | BBC |
| Oldham v Barrow | Home | October 10, 1976 | Division 1 |
| Castleford v Oldham | Away | October 15, 1976 | Division 1 |
| Oldham v Batley | Home | October 24, 1976 | Players No.6 Cup |
| Salford v Oldham | Away | January 2, 1977 | Division 1 |