Joe Ferguson
Profile
There can be no doubt that any player in the whole history of Oldham RLFC has made his presence felt or left an impression quite like Joe Ferguson.
A native of 'Ellenboro', Cumberland, Joe signed for Oldham in time for the 1899 season, after having been invited by the club to attend the previous season's Challenge Cup Final. This was when Oldham defeated Hunslet and the effect was enough to convince the young Ferguson his future lay with Oldham in the face of competition from Halifax.
Joe was a forward, this being in the days when the individual "pack" positions were much less defined than they are today, but as the game evolved he became a front row man, playing both hooker and prop. A strong robust performer on both attack and defence, he was also a fine goalkicker and on no fewer than eleven occasions he was the top Oldham marksman and would occasionally play at full back. Always a player for the big occasion, he once landed a mighty drop goal from the half way line, to clinch a 4 – 3 victory over Swinton in the Lancashire Cup final of 1910.
He had the distinction of representing his country at 15, 13 and 12-a-side rugby football, the latter being an experimental idea played at Wigan against Other Nationalities in 1904. Surprisingly he never got to play in a test rated international, but he did captain "England" to victory over the 1907 New Zealand tourists despite the fact that the "All Golds", won the test series against the full British team. Joe was also an automatic selection for the first tour in 1910, but declined to go for business reasons.
At county level his record is second to none, having been capped 15 times by his adopted Lancashire and, after a change in the qualification rules, appearanced 31 times for Cumberland. He also became the first captain to raise aloft the Infirmary (Law) Cup when it was introduced for competition between Oldham and Rochdale in 1921.
The only domestic honour to elude him was a Challenge Cup winners medal, although he played in two finals in 1907 and 1912. With over 600 appearances for the club he is over 150 ahead of his nearest rival and but for the First World War his total would have been approaching the 700 mark. His last game was at St Helens on April 14th, 1923 at the age of forty-four.
Was Joe the greatest "Roughyed / Bear" of all time ? Many people think so and on the evidence of the above details few could disagree.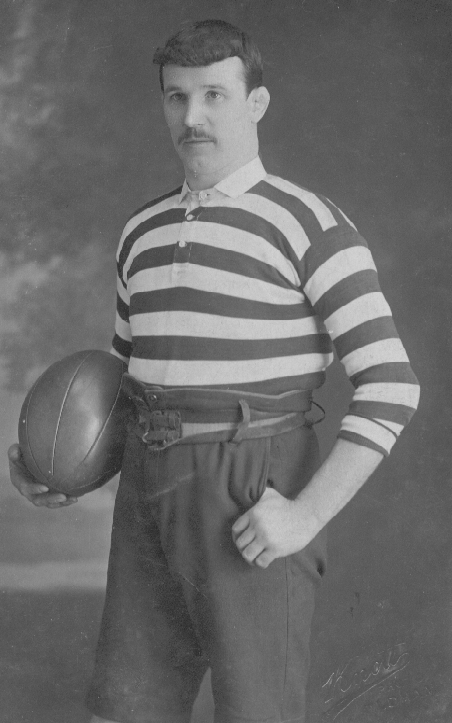 Career Games
| | | | |
| --- | --- | --- | --- |
| Morecambe v Oldham | Away | September 2, 1899 | Friendly |
| Millom v Oldham | Away | September 9, 1899 | Lancashire Senior Competition |
| Oldham v Tyldesley | Home | September 16, 1899 | Lancashire Senior Competition |
| Oldham v Runcorn | Home | September 23, 1899 | Lancashire Senior Competition |
| Stockport v Oldham | Away | September 25, 1899 | Lancashire Senior Competition |
| Oldham v Salford | Home | October 28, 1899 | Lancashire Senior Competition |
| Oldham v Hunslet | Home | November 4, 1899 | Friendly |
| Swinton v Oldham | Away | November 11, 1899 | Lancashire Senior Competition |
| Oldham v Warrington | Home | November 18, 1899 | Lancashire Senior Competition |
| Wigan v Oldham | Away | November 25, 1899 | Lancashire Senior Competition |
| Oldham v Morecambe | Home | December 2, 1899 | Friendly |
| St Helens v Oldham | Away | December 9, 1899 | Lancashire Senior Competition |
| Broughton Rangers v Oldham | Away | December 23, 1899 | Lancashire Senior Competition |
| Oldham v Rochdale Hornets | Home | December 25, 1899 | Lancashire Senior Competition |
| Oldham v Millom | Home | December 30, 1899 | Lancashire Senior Competition |
| Oldham v Bradford | Home | January 1, 1900 | Friendly |
| Oldham v Leigh | Home | January 6, 1900 | Lancashire Senior Competition |
| Oldham v Widnes | Home | January 13, 1900 | Lancashire Senior Competition |
| Oldham v Wigan | Home | January 20, 1900 | Lancashire Senior Competition |
| Runcorn v Oldham | Away | March 10, 1900 | Lancashire Senior Competition |
| Manningham v Oldham | Away | March 17, 1900 | Rugby League Challenge Cup |
| Oldham v Manningham | Home | March 20, 1900 | Rugby League Challenge Cup |
| Halifax v Oldham | Away | March 24, 1900 | Rugby League Challenge Cup |
| Swinton v Oldham | Away | March 31, 1900 | Rugby League Challenge Cup |
| Hull Kingston Rovers v Oldham | Away | April 7, 1900 | Friendly |
| Oldham v Brighouse Rangers | Home | April 16, 1900 | Friendly |
| Workington v Oldham | Away | September 1, 1900 | Friendly |
| Oldham v Wigan | Home | September 15, 1900 | Lancashire Senior Competition |
| Oldham v Barrow | Home | September 22, 1900 | Lancashire Senior Competition |
| Swinton v Oldham | Away | September 29, 1900 | Lancashire Senior Competition |
| Runcorn v Oldham | Away | October 6, 1900 | Lancashire Senior Competition |
| Oldham v St Helens | Home | October 13, 1900 | Lancashire Senior Competition |
| Oldham v Workington | Home | October 20, 1900 | Friendly |
| Oldham v Leigh | Home | October 27, 1900 | Lancashire Senior Competition |
| Salford v Oldham | Away | November 10, 1900 | Lancashire Senior Competition |
| Oldham v Millom | Home | December 1, 1900 | Lancashire Senior Competition |
| St Helens v Oldham | Away | December 15, 1900 | Lancashire Senior Competition |
| Warrington v Oldham | Away | December 22, 1900 | Lancashire Senior Competition |
| Rochdale Hornets v Oldham | Away | December 25, 1900 | Lancashire Senior Competition |
| Oldham v Broughton Rangers | Home | December 29, 1900 | Lancashire Senior Competition |
| Stockport v Oldham | Away | January 19, 1901 | Lancashire Senior Competition |
| Broughton Rangers v Oldham | Away | January 26, 1901 | Lancashire Senior Competition |
| Oldham v Stockport | Home | February 9, 1901 | Lancashire Senior Competition |
| Oldham v Runcorn | Home | February 23, 1901 | Lancashire Senior Competition |
| Oldham v Swinton | Home | February 25, 1901 | Lancashire Senior Competition |
| Oldham v Otley | Home | March 2, 1901 | Rugby League Challenge Cup |
| Bramley v Oldham | Away | March 9, 1901 | Rugby League Challenge Cup |
| Wigan v Oldham | Away | March 16, 1901 | Lancashire Senior Competition |
| Broughton Rangers v Oldham | Away | March 23, 1901 | Rugby League Challenge Cup |
| Widnes v Oldham | Away | March 30, 1901 | Rugby League Challenge Cup |
| Leigh v Oldham | Away | April 2, 1901 | Lancashire Senior Competition |
| Oldham v Salford | Home | April 6, 1901 | Lancashire Senior Competition |
| Millom v Oldham | Away | April 8, 1901 | Lancashire Senior Competition |
| Batley v Oldham | Neutral | April 13, 1901 | Rugby League Challenge Cup |
| Oldham v The Rest | Home | April 20, 1901 | Champs v Rest |
| Werneth v Oldham | Away | April 26, 1901 | Friendly |
| Leigh v Oldham | Away | September 7, 1901 | Northern RL |
| Batley v Oldham | Away | September 14, 1901 | Northern RL |
| Oldham v Huddersfield | Home | September 21, 1901 | Northern RL |
| Bradford v Oldham | Away | September 28, 1901 | Northern RL |
| Oldham v Brighouse Rangers | Home | October 5, 1901 | Northern RL |
| Oldham v Runcorn | Home | October 12, 1901 | Northern RL |
| Warrington v Oldham | Away | October 19, 1901 | Northern RL |
| Rochdale Hornets v Oldham | Away | November 2, 1901 | South East Lancashire League |
| Hull FC v Oldham | Away | November 9, 1901 | Northern RL |
| Huddersfield v Oldham | Away | November 23, 1901 | Northern RL |
| Hunslet v Oldham | Away | November 30, 1901 | Northern RL |
| Oldham v Leigh | Home | December 7, 1901 | Northern RL |
| Oldham v Stockport | Home | December 10, 1901 | South East Lancashire League |
| Oldham v Warrington | Home | December 14, 1901 | Northern RL |
| Oldham v Rochdale Hornets | Home | December 25, 1901 | South East Lancashire League |
| Oldham v Hull FC | Home | December 31, 1901 | Northern RL |
| Swinton v Oldham | Away | January 1, 1902 | Northern RL |
| Oldham v Salford | Home | January 4, 1902 | Northern RL |
| Salford v Oldham | Away | January 25, 1902 | Northern RL |
| Oldham v Halifax | Home | January 28, 1902 | Northern RL |
| Brighouse Rangers v Oldham | Away | February 11, 1902 | Northern RL |
| Oldham v Bradford | Home | February 22, 1902 | Northern RL |
| Oldham v Broughton Rangers | Home | February 25, 1902 | Northern RL |
| Oldham v Swinton | Home | March 1, 1902 | Northern RL |
| Maryport v Oldham | Away | March 15, 1902 | Rugby League Challenge Cup |
| Hunslet v Oldham | Away | April 14, 1902 | Northern RL |
| South Shields v Oldham | Away | April 19, 1902 | Friendly |
| Salford & Swinton v Broughton Rangers and Oldham | Away | April 29, 1902 | Benefit Match |
| Hull FC v Oldham | Away | September 6, 1902 | Division 1 |
| Swinton v Oldham | Away | September 13, 1902 | Division 1 |
| Oldham v Broughton Rangers | Home | September 20, 1902 | Division 1 |
| Hull Kingston Rovers v Oldham | Away | September 27, 1902 | Division 1 |
| Oldham v Hunslet | Home | October 4, 1902 | Division 1 |
| Wigan v Oldham | Away | October 11, 1902 | Division 1 |
| Oldham v Widnes | Home | October 18, 1902 | Division 1 |
| Oldham v Huddersfield | Home | November 1, 1902 | Division 1 |
| Warrington v Oldham | Away | November 8, 1902 | Division 1 |
| St Helens v Oldham | Away | November 22, 1902 | Division 1 |
| Oldham v Salford | Home | December 13, 1902 | Division 1 |
| Oldham v Halifax | Home | December 20, 1902 | Division 1 |
| Oldham v Swinton | Home | December 25, 1902 | Division 1 |
| Oldham v Leigh | Home | December 27, 1902 | Division 1 |
| Widnes v Oldham | Away | January 1, 1903 | Division 1 |
| Oldham v Hull FC | Home | January 3, 1903 | Division 1 |
| Oldham v Hull Kingston Rovers | Home | January 24, 1903 | Division 1 |
| Hunslet v Oldham | Away | January 31, 1903 | Division 1 |
| Batley v Oldham | Away | February 3, 1903 | Division 1 |
| Oldham v Wigan | Home | February 7, 1903 | Division 1 |
| Broughton Rangers v Oldham | Away | February 14, 1903 | Rugby League Challenge Cup |
| Oldham v Wigan | Home | February 21, 1903 | Rugby League Challenge Cup |
| Huddersfield v Oldham | Away | February 28, 1903 | Division 1 |
| Bradford v Oldham | Away | March 7, 1903 | Rugby League Challenge Cup |
| Oldham v Bradford | Home | March 10, 1903 | Division 1 |
| Brighouse Rangers v Oldham | Away | March 14, 1903 | Division 1 |
| Runcorn v Oldham | Away | March 17, 1903 | Division 1 |
| Oldham v Hunslet | Home | March 21, 1903 | Rugby League Challenge Cup |
| Oldham v Warrington | Home | March 24, 1903 | Division 1 |
| Oldham v Runcorn | Home | March 28, 1903 | Division 1 |
| Oldham v St Helens | Home | March 31, 1903 | Division 1 |
| Salford v Oldham | Neutral | April 4, 1903 | Rugby League Challenge Cup |
| Salford v Oldham | Neutral | April 8, 1903 | Rugby League Challenge Cup |
| Salford v Oldham | Away | April 11, 1903 | Division 1 |
| Oldham v Swinton | Home | April 13, 1903 | Division 1 |
| Oldham v Batley | Home | April 14, 1903 | Division 1 |
| Halifax v Oldham | Away | April 18, 1903 | Division 1 |
| Leigh v Oldham | Away | April 25, 1903 | Division 1 |
| Oldham v Hull FC | Home | September 5, 1903 | Division 1 |
| Halifax v Oldham | Away | September 12, 1903 | Division 1 |
| Oldham v Huddersfield | Home | September 19, 1903 | Division 1 |
| Bradford v Oldham | Away | September 26, 1903 | Division 1 |
| Oldham v Wigan | Home | October 3, 1903 | Division 1 |
| Leeds v Oldham | Away | October 10, 1903 | Division 1 |
| Oldham v Runcorn | Home | October 17, 1903 | Division 1 |
| Salford v Oldham | Away | October 24, 1903 | Division 1 |
| Oldham v Leigh | Home | October 31, 1903 | Division 1 |
| Warrington v Oldham | Away | November 7, 1903 | Division 1 |
| Keighley v Oldham | Away | November 21, 1903 | Division 1 |
| Oldham v Broughton Rangers | Home | November 28, 1903 | Division 1 |
| Hunslet v Oldham | Away | December 5, 1903 | Division 1 |
| Oldham v Widnes | Home | December 12, 1903 | Division 1 |
| Swinton v Oldham | Away | December 19, 1903 | Division 1 |
| Oldham v Batley | Home | December 25, 1903 | Division 1 |
| Oldham v Hull Kingston Rovers | Home | December 26, 1903 | Division 1 |
| Hull FC v Oldham | Away | January 2, 1904 | Division 1 |
| Oldham v Halifax | Home | January 9, 1904 | Division 1 |
| Huddersfield v Oldham | Away | January 16, 1904 | Division 1 |
| Oldham v Bradford | Home | January 23, 1904 | Division 1 |
| Wigan v Oldham | Away | January 30, 1904 | Division 1 |
| Oldham v Leeds | Home | February 6, 1904 | Division 1 |
| Runcorn v Oldham | Away | February 13, 1904 | Division 1 |
| Oldham v Salford | Home | February 20, 1904 | Division 1 |
| Leigh v Oldham | Away | February 27, 1904 | Division 1 |
| Oldham v Warrington | Home | March 5, 1904 | Division 1 |
| Batley v Oldham | Away | March 12, 1904 | Rugby League Challenge Cup |
| Oldham v Swinton | Home | March 19, 1904 | Friendly |
| Oldham v Oldham A | Home | April 2, 1904 | Friendly |
| Oldham v Swinton | Home | April 4, 1904 | Division 1 |
| Widnes v Oldham | Away | April 9, 1904 | Division 1 |
| Oldham v Keighley | Home | April 12, 1904 | Division 1 |
| Oldham v Hunslet | Home | April 19, 1904 | Division 1 |
| Hull Kingston Rovers v Oldham | Away | April 23, 1904 | Division 1 |
| St Helens v Oldham | Away | September 3, 1904 | Division 1 |
| Hull Kingston Rovers v Oldham | Away | September 10, 1904 | Division 1 |
| Oldham v Widnes | Home | September 10, 1904 | Division 1 |
| Oldham v Batley | Home | September 17, 1904 | Division 1 |
| Hunslet v Oldham | Away | September 24, 1904 | Division 1 |
| Salford v Oldham | Away | October 8, 1904 | Division 1 |
| Oldham v Warrington | Home | October 15, 1904 | Division 1 |
| Wakefield Trinity v Oldham | Away | October 22, 1904 | Division 1 |
| Oldham v Leigh | Home | October 29, 1904 | Division 1 |
| Oldham v Halifax | Home | November 5, 1904 | Division 1 |
| Bradford v Oldham | Away | November 19, 1904 | Division 1 |
| Oldham v Leeds | Home | November 26, 1904 | Division 1 |
| Runcorn v Oldham | Away | December 3, 1904 | Division 1 |
| Oldham v Broughton Rangers | Home | December 10, 1904 | Division 1 |
| Oldham v Wigan | Home | December 17, 1904 | Division 1 |
| Swinton v Oldham | Away | December 24, 1904 | Division 1 |
| Oldham v Swinton | Home | December 26, 1904 | Division 1 |
| Oldham v St Helens | Home | December 31, 1904 | Division 1 |
| Oldham v Hull Kingston Rovers | Home | January 7, 1905 | Division 1 |
| Batley v Oldham | Away | January 14, 1905 | Division 1 |
| Oldham v Hunslet | Home | January 21, 1905 | Division 1 |
| Widnes v Oldham | Away | January 28, 1905 | Division 1 |
| Oldham v Salford | Home | February 4, 1905 | Division 1 |
| Warrington v Oldham | Away | February 11, 1905 | Division 1 |
| Oldham v Wakefield Trinity | Home | February 18, 1905 | Division 1 |
| Leigh v Oldham | Away | February 25, 1905 | Division 1 |
| Hull FC v Oldham | Away | March 11, 1905 | Division 1 |
| Batley v Oldham | Away | March 18, 1905 | Rugby League Challenge Cup |
| Oldham v Bradford | Home | March 20, 1905 | Division 1 |
| Leeds v Oldham | Away | March 25, 1905 | Division 1 |
| Oldham v Bradford | Home | April 1, 1905 | Rugby League Challenge Cup |
| Bradford v Oldham | | April 5, 1905 | Rugby League Challenge Cup |
| Broughton Rangers v Oldham | Away | April 8, 1905 | Division 1 |
| Wigan v Oldham | Away | April 15, 1905 | Division 1 |
| Oldham v Runcorn | Home | April 22, 1905 | Division 1 |
| Oldham v Hull FC | Home | April 24, 1905 | Division 1 |
| Millom v Oldham | Away | September 1, 1905 | RL Championship |
| Morecambe v Oldham | Away | September 2, 1905 | RL Championship |
| Warrington v Oldham | Away | September 9, 1905 | RL Championship |
| Oldham v Wigan | Home | September 16, 1905 | RL Championship |
| Runcorn v Oldham | Away | September 20, 1905 | RL Championship |
| Oldham v Barrow | Home | September 23, 1905 | RL Championship |
| Rochdale Hornets v Oldham | Away | September 30, 1905 | RL Championship |
| Oldham v Broughton Rangers | Home | October 14, 1905 | RL Championship |
| Oldham v Warrington | Home | October 21, 1905 | RL Championship |
| Salford v Oldham | Away | October 28, 1905 | Lancashire Cup |
| Oldham v Widnes | Home | November 4, 1905 | RL Championship |
| Salford v Oldham | Away | November 11, 1905 | RL Championship |
| Oldham v Wigan | Home | November 18, 1905 | Lancashire Cup |
| Oldham v Wakefield Trinity | Home | November 25, 1905 | RL Championship |
| St Helens v Oldham | Away | December 2, 1905 | RL Championship |
| Hull FC v Oldham | Away | December 9, 1905 | RL Championship |
| Swinton v Oldham | Away | December 16, 1905 | RL Championship |
| Oldham v Leeds | Home | December 23, 1905 | RL Championship |
| Oldham v Rochdale Hornets | Home | December 25, 1905 | RL Championship |
| Leeds v Oldham | Away | December 30, 1905 | RL Championship |
| Oldham v Runcorn | Home | January 2, 1906 | RL Championship |
| Oldham v Swinton | Home | January 6, 1906 | RL Championship |
| Broughton Rangers v Oldham | Away | January 20, 1906 | RL Championship |
| Oldham v St Helens | Home | January 27, 1906 | RL Championship |
| Hull Kingston Rovers v Oldham | Away | February 3, 1906 | RL Championship |
| Oldham v Salford | Home | February 10, 1906 | RL Championship |
| Oldham v Millom | Home | February 12, 1906 | RL Championship |
| Oldham v Dewsbury | Home | February 17, 1906 | RL Championship |
| Halifax v Oldham | Away | February 24, 1906 | RL Championship |
| Pontefract v Oldham | Away | March 3, 1906 | Rugby League Challenge Cup |
| Oldham v Bradford | Home | March 10, 1906 | RL Championship |
| Oldham v Halifax | Home | March 17, 1906 | Rugby League Challenge Cup |
| Oldham v Halifax | Home | March 24, 1906 | RL Championship |
| Wakefield Trinity v Oldham | Away | March 31, 1906 | RL Championship |
| Leigh v Oldham | Away | April 4, 1906 | RL Championship |
| Bradford v Oldham | Away | April 7, 1906 | RL Championship |
| Oldham v Hull Kingston Rovers | Home | April 14, 1906 | RL Championship |
| Wigan v Oldham | Away | April 16, 1906 | RL Championship |
| Oldham v Chadderton | Home | April 19, 1906 | Friendly |
| Barrow v Oldham | Away | April 21, 1906 | RL Championship |
| Widnes v Oldham | Away | April 26, 1906 | RL Championship |
| Dewsbury v Oldham | Away | April 28, 1906 | RL Championship |
| Oldham v Runcorn | Home | September 1, 1906 | League Championship |
| Oldham v Wigan | Home | September 8, 1906 | League Championship |
| Oldham v Hull Kingston Rovers | Home | September 15, 1906 | League Championship |
| Swinton v Oldham | Away | September 22, 1906 | League Championship |
| Huddersfield v Oldham | Away | September 24, 1906 | League Championship |
| Oldham v Rochdale Hornets | Home | September 29, 1906 | League Championship |
| St Helens v Oldham | Away | October 13, 1906 | Lancashire Cup |
| Hunslet v Oldham | Away | October 20, 1906 | League Championship |
| Oldham v Rochdale Hornets | Home | October 27, 1906 | Lancashire Cup |
| Oldham v Leigh | Home | November 3, 1906 | League Championship |
| Barrow v Oldham | Away | November 5, 1906 | League Championship |
| Broughton Rangers v Oldham | Away | November 10, 1906 | League Championship |
| Halifax v Oldham | Away | November 12, 1906 | League Championship |
| Warrington v Oldham | Away | November 17, 1906 | Lancashire Cup |
| Oldham v Salford | Home | November 24, 1906 | League Championship |
| Oldham v Salford | Home | December 3, 1906 | League Championship |
| Oldham v Broughton Rangers | Home | December 8, 1906 | League Championship |
| Bradford v Oldham | Away | December 18, 1906 | League Championship |
| Rochdale Hornets v Oldham | Away | December 22, 1906 | League Championship |
| Oldham v Swinton | Home | December 25, 1906 | League Championship |
| Runcorn v Oldham | Away | December 26, 1906 | League Championship |
| Oldham v Hunslet | Home | December 29, 1906 | League Championship |
| Oldham v Barrow | Home | January 1, 1907 | League Championship |
| Leeds v Oldham | Away | January 5, 1907 | League Championship |
| Oldham v Hull FC | Home | January 19, 1907 | League Championship |
| Oldham v Warrington | Home | February 4, 1907 | League Championship |
| Hull Kingston Rovers v Oldham | Away | February 9, 1907 | League Championship |
| Warrington v Oldham | Away | February 16, 1907 | League Championship |
| Oldham v Wakefield Trinity | Home | February 23, 1907 | League Championship |
| Oldham v Bradford | Home | March 2, 1907 | League Championship |
| Oldham v Halifax | Home | March 9, 1907 | League Championship |
| Wakefield Trinity v Oldham | Away | March 11, 1907 | League Championship |
| Oldham v Runcorn | Home | March 16, 1907 | Rugby League Challenge Cup |
| Halifax v Oldham | Away | March 23, 1907 | Rugby League Challenge Cup |
| Leigh v Oldham | Away | March 27, 1907 | League Championship |
| Wakefield Trinity v Oldham | Away | March 30, 1907 | Rugby League Challenge Cup |
| Wigan v Oldham | Away | April 1, 1907 | League Championship |
| Hull FC v Oldham | Away | April 2, 1907 | League Championship |
| Oldham v Runcorn | Home | April 6, 1907 | League Championship |
| Salford v Oldham | Neutral | April 13, 1907 | Rugby League Challenge Cup |
| Halifax v Oldham | Neutral | April 20, 1907 | League Championship |
| Warrington v Oldham | Neutral | April 27, 1907 | Rugby League Challenge Cup |
| Merthyr Tydfil v Oldham | Away | September 7, 1907 | League Championship |
| Oldham v Wigan | Home | September 14, 1907 | League Championship |
| Oldham v Ebbw Vale | Home | September 21, 1907 | League Championship |
| Huddersfield v Oldham | Away | September 23, 1907 | League Championship |
| Rochdale Hornets v Oldham | Away | September 28, 1907 | League Championship |
| Oldham v Barrow | Home | October 12, 1907 | Lancashire Cup |
| Oldham v Swinton | Home | October 26, 1907 | Lancashire Cup |
| Oldham v Runcorn | Home | November 2, 1907 | League Championship |
| Oldham v St Helens | Home | November 9, 1907 | League Championship |
| Salford v Oldham | Away | November 16, 1907 | Lancashire Cup |
| Oldham v New Zealand | Home | November 23, 1907 | Tour Match |
| Broughton Rangers v Oldham | Neutral | November 30, 1907 | Lancashire Cup |
| Broughton Rangers v Oldham | Away | December 7, 1907 | League Championship |
| Halifax v Oldham | Away | December 9, 1907 | League Championship |
| Oldham v Warrington | Home | December 14, 1907 | League Championship |
| Oldham v Salford | Home | December 21, 1907 | League Championship |
| Oldham v Huddersfield | Home | December 25, 1907 | League Championship |
| Swinton v Oldham | Away | December 26, 1907 | League Championship |
| Oldham v Swinton | Home | December 28, 1907 | League Championship |
| Leeds v Oldham | Away | January 1, 1908 | League Championship |
| Oldham v Halifax | Home | January 4, 1908 | League Championship |
| Barrow v Oldham | Away | January 18, 1908 | League Championship |
| Oldham v Merthyr Tydfil | Home | January 25, 1908 | League Championship |
| Oldham v Broughton Rangers | Home | February 1, 1908 | League Championship |
| Leigh v Oldham | Away | February 8, 1908 | League Championship |
| Oldham v Rochdale Hornets | Home | February 15, 1908 | League Championship |
| Wigan v Oldham | Away | February 19, 1908 | League Championship |
| Salford v Oldham | Away | February 22, 1908 | League Championship |
| Dewsbury v Oldham | Away | February 29, 1908 | Rugby League Challenge Cup |
| Oldham v Leeds | Home | March 7, 1908 | League Championship |
| Hunslet v Oldham | Away | March 14, 1908 | Rugby League Challenge Cup |
| St Helens v Oldham | Away | March 21, 1908 | League Championship |
| Ebbw Vale v Oldham | Away | March 25, 1908 | League Championship |
| Runcorn v Oldham | Away | March 28, 1908 | League Championship |
| Oldham v Barrow | Home | April 4, 1908 | League Championship |
| Widnes v Oldham | Away | April 11, 1908 | League Championship |
| Oldham v Wigan | Home | April 18, 1908 | League Championship |
| Oldham v Oldham Past | Home | April 20, 1908 | Friendly |
| Hunslet v Oldham | Neutral | May 2, 1908 | League Championship |
| Hunslet v Oldham | Neutral | May 9, 1908 | League Championship |
| St Helens v Oldham | Away | September 5, 1908 | League Championship |
| Oldham v Salford | Home | September 12, 1908 | League Championship |
| Widnes v Oldham | Away | September 19, 1908 | League Championship |
| Oldham v Swinton | Home | September 26, 1908 | League Championship |
| Oldham v Leigh | Home | October 10, 1908 | League Championship |
| Oldham v Barrow | Home | October 24, 1908 | League Championship |
| Barry v Oldham | Away | October 31, 1908 | League Championship |
| Oldham v Salford | Home | November 7, 1908 | Lancashire Cup |
| Broughton Rangers v Oldham | Away | November 14, 1908 | League Championship |
| Oldham v Rochdale Hornets | Home | November 21, 1908 | Lancashire Cup |
| Warrington v Oldham | Away | November 23, 1908 | League Championship |
| Oldham v Broughton Rangers | Home | November 28, 1908 | League Championship |
| Oldham v Runcorn | Home | December 5, 1908 | Lancashire Cup |
| Leigh v Oldham | Away | December 9, 1908 | League Championship |
| Oldham v Hunslet | Home | December 12, 1908 | League Championship |
| Wigan v Oldham | Neutral | December 19, 1908 | Lancashire Cup |
| Oldham v Hull Kingston Rovers | Home | December 25, 1908 | League Championship |
| Oldham v Halifax | Home | January 16, 1909 | League Championship |
| Oldham v Rochdale Hornets | Home | January 23, 1909 | League Championship |
| Wigan v Oldham | Away | January 30, 1909 | League Championship |
| Oldham v Widnes | Home | February 6, 1909 | League Championship |
| Halifax v Oldham | Away | February 13, 1909 | League Championship |
| Oldham v Warrington | Home | February 20, 1909 | League Championship |
| Oldham v Hull Kingston Rovers | Home | February 27, 1909 | Rugby League Challenge Cup |
| Oldham v St Helens | Home | March 6, 1909 | League Championship |
| Swinton v Oldham | Away | March 13, 1909 | Rugby League Challenge Cup |
| Oldham v Swinton | Home | March 16, 1909 | Rugby League Challenge Cup |
| Oldham v Wigan | Home | March 20, 1909 | League Championship |
| Hunslet v Oldham | Away | March 22, 1909 | League Championship |
| Oldham v Hull FC | Home | March 27, 1909 | Rugby League Challenge Cup |
| Barrow v Oldham | Away | April 1, 1909 | League Championship |
| Oldham v Runcorn | Home | April 3, 1909 | League Championship |
| Leeds v Oldham | Away | April 10, 1909 | League Championship |
| Salford v Oldham | Away | April 12, 1909 | League Championship |
| Halifax v Oldham | Away | April 17, 1909 | League Championship |
| Oldham v Halifax | Home | April 21, 1909 | League Championship |
| Wigan v Oldham | Neutral | May 1, 1909 | League Championship |
| Hull Kingston Rovers v Oldham | Away | September 4, 1909 | League Championship |
| Salford v Oldham | Away | September 11, 1909 | League Championship |
| Oldham v Halifax | Home | September 18, 1909 | League Championship |
| Oldham v Wigan | Home | September 25, 1909 | League Championship |
| Treherbert v Oldham | Away | October 2, 1909 | League Championship |
| Oldham v Runcorn | Home | October 9, 1909 | League Championship |
| Rochdale Hornets v Oldham | Away | October 16, 1909 | Lancashire Cup |
| Runcorn v Oldham | Away | October 30, 1909 | Lancashire Cup |
| Oldham v Warrington | Home | November 6, 1909 | League Championship |
| Widnes v Oldham | Away | November 13, 1909 | League Championship |
| Oldham v Swinton | Home | November 20, 1909 | League Championship |
| St Helens v Oldham | Away | November 27, 1909 | League Championship |
| Huddersfield v Oldham | Neutral | December 13, 1909 | Friendly |
| Oldham v St Helens | Home | December 18, 1909 | League Championship |
| Oldham v Hull Kingston Rovers | Home | December 25, 1909 | League Championship |
| Oldham v Barrow | Home | December 27, 1909 | League Championship |
| Hull FC v Oldham | Away | January 1, 1910 | League Championship |
| Oldham v Ebbw Vale | Home | January 3, 1910 | League Championship |
| Broughton Rangers v Oldham | Away | January 4, 1910 | League Championship |
| Wigan v Oldham | Away | January 8, 1910 | League Championship |
| Runcorn v Oldham | Away | January 15, 1910 | League Championship |
| Oldham v Rochdale Hornets | Home | January 22, 1910 | League Championship |
| Leigh v Oldham | Away | January 26, 1910 | League Championship |
| Oldham v Leigh | Home | January 29, 1910 | League Championship |
| Oldham v Broughton Rangers | Home | February 12, 1910 | League Championship |
| Leeds v Oldham | Away | February 19, 1910 | League Championship |
| Huddersfield v Oldham | Away | February 26, 1910 | Rugby League Challenge Cup |
| Oldham v Salford | Home | March 5, 1910 | League Championship |
| Barrow v Oldham | Away | March 12, 1910 | League Championship |
| Swinton v Oldham | Away | March 25, 1910 | League Championship |
| Oldham v Widnes | Home | March 26, 1910 | League Championship |
| Halifax v Oldham | Away | March 28, 1910 | League Championship |
| Rochdale Hornets v Oldham | Away | April 2, 1910 | League Championship |
| Warrington v Oldham | Away | April 4, 1910 | League Championship |
| Oldham v Treherbert | Home | April 9, 1910 | League Championship |
| Oldham v Wakefield Trinity | Home | April 16, 1910 | League Championship |
| Wigan v Oldham | Neutral | April 23, 1910 | League Championship |
| St Helens v Oldham | Away | September 3, 1910 | League Championship |
| Hull Kingston Rovers v Oldham | Away | September 10, 1910 | League Championship |
| Oldham v Broughton Rangers | Home | September 17, 1910 | League Championship |
| Oldham v Coventry | Home | September 24, 1910 | League Championship |
| Oldham v Ebbw Vale | Home | October 1, 1910 | League Championship |
| Rochdale Hornets v Oldham | Away | October 8, 1910 | League Championship |
| Oldham v Wigan | Home | October 15, 1910 | League Championship |
| Warrington v Oldham | Away | October 22, 1910 | League Championship |
| Oldham v Salford | Home | October 29, 1910 | League Championship |
| Widnes v Oldham | Away | November 5, 1910 | Lancashire Cup |
| Oldham v Halifax | Home | November 12, 1910 | League Championship |
| Rochdale Hornets v Oldham | Away | November 19, 1910 | Lancashire Cup |
| Oldham v Huddersfield | Home | November 26, 1910 | League Championship |
| Swinton v Oldham | Neutral | December 3, 1910 | Lancashire Cup |
| Widnes v Oldham | Away | December 7, 1910 | League Championship |
| Oldham v St Helens | Home | December 10, 1910 | League Championship |
| Leigh v Oldham | Away | December 13, 1910 | League Championship |
| Huddersfield v Oldham | Away | December 17, 1910 | League Championship |
| Oldham v Hull Kingston Rovers | Home | December 24, 1910 | League Championship |
| Leeds v Oldham | Away | December 31, 1910 | League Championship |
| Barrow v Oldham | Away | January 2, 1911 | League Championship |
| Oldham v Widnes | Home | January 7, 1911 | League Championship |
| Salford v Oldham | Away | February 4, 1911 | League Championship |
| Oldham v Runcorn | Home | February 11, 1911 | League Championship |
| Hull Kingston Rovers v Oldham | Away | February 18, 1911 | Rugby League Challenge Cup |
| Oldham v Rochdale Hornets | Home | February 25, 1911 | League Championship |
| Oldham v Wakefield Trinity | Home | March 4, 1911 | Rugby League Challenge Cup |
| Oldham v Barrow | Home | March 11, 1911 | League Championship |
| Oldham v Rochdale Hornets | Home | March 18, 1911 | Rugby League Challenge Cup |
| Rochdale Hornets v Oldham | Away | March 21, 1911 | Rugby League Challenge Cup |
| Oldham v Leigh | Home | March 25, 1911 | League Championship |
| Wigan v Oldham | Away | March 29, 1911 | League Championship |
| Swinton v Oldham | Away | April 1, 1911 | League Championship |
| Oldham v Leeds | Home | April 8, 1911 | League Championship |
| Ebbw Vale v Oldham | Away | April 15, 1911 | League Championship |
| Broughton Rangers v Oldham | Away | April 17, 1911 | League Championship |
| Wigan v Oldham | Neutral | April 19, 1911 | League Championship |
| Wigan v Oldham | Neutral | May 6, 1911 | League Championship |
| Hull Kingston Rovers v Oldham | Away | September 2, 1911 | League Championship |
| Leigh v Oldham | Away | September 9, 1911 | League Championship |
| Bradford Northern v Oldham | Away | September 12, 1911 | League Championship |
| Oldham v Leeds | Home | September 16, 1911 | League Championship |
| Huddersfield v Oldham | Away | September 23, 1911 | League Championship |
| Oldham v Rochdale Hornets | Home | September 30, 1911 | League Championship |
| Broughton Rangers v Oldham | Away | October 7, 1911 | League Championship |
| Oldham v Halifax | Home | October 14, 1911 | League Championship |
| Barrow v Oldham | Away | October 21, 1911 | Lancashire Cup |
| Oldham v Swinton | Home | October 28, 1911 | League Championship |
| Oldham v Leigh | Home | November 4, 1911 | Lancashire Cup |
| Runcorn v Oldham | Away | November 8, 1911 | League Championship |
| Oldham v Australia | Home | November 11, 1911 | Tour Match |
| Wigan v Oldham | Away | November 18, 1911 | Lancashire Cup |
| Rochdale Hornets v Oldham | Neutral | December 2, 1911 | Lancashire Cup |
| St Helens v Oldham | Away | December 7, 1911 | League Championship |
| Barrow v Oldham | Away | December 11, 1911 | League Championship |
| Oldham v Hull Kingston Rovers | Home | December 25, 1911 | League Championship |
| Oldham v Bradford Northern | Home | December 26, 1911 | League Championship |
| Oldham v St Helens | Home | December 30, 1911 | League Championship |
| Oldham v Coventry | Home | January 1, 1912 | League Championship |
| Salford v Oldham | Away | January 6, 1912 | League Championship |
| Oldham v Warrington | Home | January 13, 1912 | League Championship |
| Oldham v Barrow | Home | January 27, 1912 | League Championship |
| Leeds v Oldham | Away | February 10, 1912 | League Championship |
| Coventry v Oldham | Away | February 17, 1912 | Rugby League Challenge Cup |
| Oldham v Huddersfield | Home | February 24, 1912 | League Championship |
| Oldham v Wigan | Home | March 2, 1912 | Rugby League Challenge Cup |
| Oldham v Wigan | Home | March 9, 1912 | League Championship |
| Widnes v Oldham | Away | March 13, 1912 | League Championship |
| Oldham v Huddersfield | Home | March 23, 1912 | Rugby League Challenge Cup |
| Oldham v Runcorn | Home | March 30, 1912 | League Championship |
| Warrington v Oldham | Away | April 1, 1912 | League Championship |
| Halifax v Oldham | Away | April 5, 1912 | League Championship |
| Oldham v Salford | Home | April 6, 1912 | League Championship |
| Wakefield Trinity v Oldham | Neutral | April 13, 1912 | Rugby League Challenge Cup |
| Dewsbury v Oldham | Neutral | April 27, 1912 | Rugby League Challenge Cup |
| Huddersfield v Oldham | Neutral | May 11, 1912 | Friendly |
| Oldham v Dewsbury | Home | September 7, 1912 | League Championship |
| Hull Kingston Rovers v Oldham | Away | September 14, 1912 | League Championship |
| Leeds v Oldham | Away | September 21, 1912 | League Championship |
| Rochdale Hornets v Oldham | Away | October 5, 1912 | League Championship |
| Runcorn v Oldham | Away | October 19, 1912 | Lancashire Cup |
| Oldham v Wigan | Home | October 26, 1912 | League Championship |
| Wigan v Oldham | Away | November 2, 1912 | Lancashire Cup |
| Oldham v Runcorn | Home | November 9, 1912 | League Championship |
| Oldham v Salford | Home | November 23, 1912 | League Championship |
| Oldham v Barrow | Home | December 7, 1912 | League Championship |
| Oldham v Swinton | Home | December 12, 1912 | League Championship |
| Halifax v Oldham | Away | December 14, 1912 | League Championship |
| Wigan v Oldham | Away | December 21, 1912 | League Championship |
| Oldham v Hull Kingston Rovers | Home | December 25, 1912 | League Championship |
| Oldham v Warrington | Home | December 26, 1912 | League Championship |
| Broughton Rangers v Oldham | Away | December 28, 1912 | League Championship |
| Dewsbury v Oldham | Away | January 1, 1913 | League Championship |
| Oldham v Halifax | Home | January 4, 1913 | League Championship |
| Oldham v Widnes | Home | January 18, 1913 | League Championship |
| Huddersfield v Oldham | Away | January 25, 1913 | League Championship |
| Oldham v Rochdale Hornets | Home | February 1, 1913 | League Championship |
| Oldham v Leeds | Home | February 8, 1913 | League Championship |
| Runcorn v Oldham | Away | February 12, 1913 | League Championship |
| Oldham v Leigh | Home | February 22, 1913 | League Championship |
| St Helens v Oldham | Away | March 1, 1913 | League Championship |
| Normanton St Johns v Oldham | Away | March 8, 1913 | Rugby League Challenge Cup |
| Dewsbury v Oldham | Away | March 15, 1913 | Rugby League Challenge Cup |
| Warrington v Oldham | Away | March 21, 1913 | League Championship |
| Oldham v Huddersfield | Home | March 22, 1913 | League Championship |
| Oldham v Broughton Rangers | Home | March 24, 1913 | League Championship |
| Swinton v Oldham | Away | March 29, 1913 | League Championship |
| Runcorn v Oldham | Away | April 2, 1913 | League Championship |
| Oldham v Dewsbury | Home | September 6, 1913 | League Championship |
| St Helens v Oldham | Away | September 13, 1913 | League Championship |
| Wigan v Oldham | Away | September 20, 1913 | League Championship |
| Oldham v Halifax | Home | September 27, 1913 | League Championship |
| Huddersfield v Oldham | Away | October 4, 1913 | League Championship |
| Oldham v Widnes | Home | October 25, 1913 | League Championship |
| Oldham v Widnes | Home | November 1, 1913 | Lancashire Cup |
| Oldham v Rochdale Hornets | Home | November 8, 1913 | League Championship |
| Oldham v St Helens | Home | November 15, 1913 | Lancashire Cup |
| Oldham v Hull FC | Home | November 22, 1913 | League Championship |
| Widnes v Oldham | Away | November 25, 1913 | League Championship |
| Broughton Rangers v Oldham | Away | November 29, 1913 | League Championship |
| Wigan v Oldham | Neutral | December 6, 1913 | Lancashire Cup |
| Leigh v Oldham | Away | December 13, 1913 | League Championship |
| Oldham v Leeds | Home | December 15, 1913 | League Championship |
| Oldham v Salford | Home | December 20, 1913 | League Championship |
| Oldham v Swinton | Home | December 25, 1913 | League Championship |
| Warrington v Oldham | Away | December 26, 1913 | League Championship |
| Leeds v Oldham | Away | December 27, 1913 | League Championship |
| Oldham v Broughton Rangers | Home | January 17, 1914 | League Championship |
| Rochdale Hornets v Oldham | Away | January 24, 1914 | League Championship |
| Oldham v Huddersfield | Home | February 7, 1914 | League Championship |
| Hull FC v Oldham | Away | February 14, 1914 | League Championship |
| Runcorn v Oldham | Away | February 21, 1914 | League Championship |
| Leigh v Oldham | Away | February 28, 1914 | Rugby League Challenge Cup |
| Oldham v Leigh | Home | March 7, 1914 | League Championship |
| Widnes v Oldham | Away | March 14, 1914 | Rugby League Challenge Cup |
| Wakefield Trinity v Oldham | Away | March 23, 1914 | League Championship |
| Oldham v Barrow | Home | March 28, 1914 | League Championship |
| Halifax v Oldham | Away | March 30, 1914 | League Championship |
| Oldham v St Helens | Home | April 4, 1914 | League Championship |
| Swinton v Oldham | Away | April 10, 1914 | League Championship |
| Oldham v Wakefield Trinity | Home | April 11, 1914 | League Championship |
| Barrow v Oldham | Away | April 13, 1914 | League Championship |
| Wakefield Trinity v Oldham | Away | September 5, 1914 | League Championship |
| Oldham v Leigh | Home | September 12, 1914 | League Championship |
| St Helens v Oldham | Away | September 19, 1914 | League Championship |
| Oldham v Warrington | Home | September 26, 1914 | League Championship |
| Widnes v Oldham | Away | October 3, 1914 | League Championship |
| Oldham v Batley | Home | October 5, 1914 | League Championship |
| Oldham v Broughton Rangers | Home | October 10, 1914 | League Championship |
| Wigan v Oldham | Away | October 17, 1914 | Lancashire Cup |
| Oldham v Leeds | Home | October 24, 1914 | League Championship |
| Barrow v Oldham | Away | October 31, 1914 | League Championship |
| Oldham v Hull FC | Home | November 7, 1914 | League Championship |
| Runcorn v Oldham | Away | November 14, 1914 | League Championship |
| Oldham v Wigan | Home | November 21, 1914 | League Championship |
| Rochdale Hornets v Oldham | Away | November 28, 1914 | League Championship |
| Leigh v Oldham | Away | December 5, 1914 | League Championship |
| Oldham v St Helens | Home | December 12, 1914 | League Championship |
| Salford v Oldham | Away | December 19, 1914 | League Championship |
| Oldham v Swinton | Home | December 25, 1914 | League Championship |
| Broughton Rangers v Oldham | Away | December 26, 1914 | League Championship |
| Batley v Oldham | Away | January 1, 1915 | League Championship |
| Oldham v Runcorn | Home | January 2, 1915 | League Championship |
| Halifax v Oldham | Away | January 16, 1915 | League Championship |
| Oldham v Widnes | Home | January 23, 1915 | League Championship |
| Warrington v Oldham | Away | January 30, 1915 | League Championship |
| Oldham v Wakefield Trinity | Home | February 6, 1915 | League Championship |
| Oldham v Rochdale Hornets | Home | February 13, 1915 | League Championship |
| Wigan v Oldham | Away | February 20, 1915 | League Championship |
| Oldham v Wigan | Home | February 27, 1915 | Rugby League Challenge Cup |
| Oldham v Halifax | Home | March 6, 1915 | League Championship |
| Oldham v Rochdale Hornets | Home | March 16, 1915 | League Championship |
| Oldham v Huddersfield | Home | March 20, 1915 | League Championship |
| Swinton v Oldham | Away | April 2, 1915 | League Championship |
| Leeds v Oldham | Away | April 3, 1915 | League Championship |
| Oldham v Salford | Home | April 5, 1915 | League Championship |
| Oldham v Barrow | Home | April 10, 1915 | League Championship |
| Wigan v Oldham | Away | September 18, 1915 | Wartime Friendly |
| Oldham v Huddersfield | Home | September 25, 1915 | Wartime Friendly |
| Oldham v Leigh | Home | October 2, 1915 | Wartime Friendly |
| Rochdale Hornets v Oldham | Away | October 9, 1915 | Wartime Friendly |
| Oldham v St Helens | Home | October 16, 1915 | Wartime Friendly |
| Broughton Rangers v Oldham | Away | October 23, 1915 | Wartime Friendly |
| Oldham v Bradford Northern | Home | October 30, 1915 | Wartime Friendly |
| Leigh v Oldham | Away | November 6, 1915 | Wartime Friendly |
| Oldham v Rochdale Hornets | Home | November 13, 1915 | Wartime Friendly |
| Oldham v Wigan | Home | December 4, 1915 | Wartime Friendly |
| Salford v Oldham | Away | December 11, 1915 | Wartime Friendly |
| Oldham v Halifax | Home | December 18, 1915 | Wartime Friendly |
| Oldham v Swinton | Home | December 25, 1915 | Wartime Friendly |
| Huddersfield v Oldham | Away | December 27, 1915 | Wartime Friendly |
| Hull FC v Oldham | Away | January 1, 1916 | Wartime Friendly |
| Oldham v Oldham Present | Home | January 3, 1916 | Special Friendly |
| Rochdale Hornets v Oldham | Away | January 8, 1916 | Wartime Friendly |
| Wigan v Oldham | Away | January 15, 1916 | Wartime Friendly |
| Oldham v Broughton Rangers | Home | January 22, 1916 | Wartime Friendly |
| Swinton v Oldham | Away | January 29, 1916 | Wartime Friendly |
| Oldham v Leeds | Home | February 5, 1916 | Wartime Friendly |
| Batley v Oldham | Away | February 12, 1916 | Wartime Friendly |
| Oldham v Rochdale Hornets | Home | February 19, 1916 | Wartime Friendly |
| Oldham v Dewsbury | Home | March 4, 1916 | Wartime Friendly |
| Dewsbury v Oldham | Away | March 11, 1916 | Wartime Friendly |
| Oldham v Wigan | Home | March 18, 1916 | Wartime Friendly |
| Halifax v Oldham | Away | March 25, 1916 | Wartime Friendly |
| Oldham v Batley | Home | April 1, 1916 | Wartime Friendly |
| Bradford Northern v Oldham | Away | April 8, 1916 | Wartime Friendly |
| Oldham v Hull FC | Home | April 15, 1916 | Wartime Friendly |
| Oldham v Rochdale Hornets | Home | April 29, 1916 | Wartime Friendly |
| Oldham v Leeds | Home | September 30, 1916 | Wartime Friendly |
| Oldham v Halifax | Home | October 7, 1916 | Wartime Friendly |
| Oldham v St Helens Recs | Home | October 28, 1916 | Wartime Friendly |
| Rochdale Hornets v Oldham | Away | November 4, 1916 | Wartime Friendly |
| Warrington v Oldham | Away | November 18, 1916 | Wartime Friendly |
| Oldham v Rochdale Hornets | Home | November 25, 1916 | Wartime Friendly |
| Leeds v Oldham | Away | December 9, 1916 | Wartime Friendly |
| Oldham v Wigan | Home | December 23, 1916 | Wartime Friendly |
| Oldham v Swinton | Home | December 25, 1916 | Wartime Friendly |
| Oldham v 2nd/10th Manchester Regiment | Home | December 30, 1916 | Wartime Friendly |
| Oldham v Broughton Rangers | Home | January 1, 1917 | Wartime Friendly |
| Oldham v Warrington | Home | January 6, 1917 | Wartime Friendly |
| Broughton Rangers v Oldham | Away | January 13, 1917 | Wartime Friendly |
| Oldham v Huddersfield | Home | January 20, 1917 | Wartime Friendly |
| Rochdale Hornets v Oldham | Away | February 24, 1917 | Wartime Friendly |
| Oldham v Rochdale Hornets | Home | March 17, 1917 | Wartime Friendly |
| Salford v Oldham | Away | April 14, 1917 | Wartime Friendly |
| Oldham v Salford | Home | April 21, 1917 | Wartime Friendly |
| Leeds v Oldham | Away | April 28, 1917 | Wartime Friendly |
| Oldham v Swinton | Home | February 8, 1919 | Lancashire League |
| Warrington v Oldham | Away | February 15, 1919 | Lancashire League |
| Oldham v Barrow | Home | March 1, 1919 | Lancashire League |
| Barrow v Oldham | Away | March 8, 1919 | Lancashire League |
| Oldham v St Helens Recs | Home | March 15, 1919 | Lancashire League |
| Rochdale Hornets v Oldham | Away | March 22, 1919 | Lancashire League |
| Wigan v Oldham | Away | March 29, 1919 | Lancashire League |
| Oldham v Wigan | Home | April 5, 1919 | Lancashire League |
| Oldham v St Helens | Home | April 12, 1919 | Lancashire Cup |
| Swinton v Oldham | Away | April 18, 1919 | Lancashire League |
| Oldham v Swinton | Home | April 19, 1919 | Lancashire League |
| Oldham v Broughton Rangers | Home | April 21, 1919 | Lancashire League |
| Barrow v Oldham | Away | April 26, 1919 | Lancashire Cup |
| Rochdale Hornets v Oldham | Neutral | May 10, 1919 | Lancashire Cup |
| Oldham v Warrington | Home | May 17, 1919 | Lancashire League |
| Warrington v Oldham | Away | August 23, 1919 | League Championship |
| Oldham v Rochdale Hornets | Home | August 30, 1919 | League Championship |
| St Helens v Oldham | Away | September 6, 1919 | League Championship |
| Oldham v Huddersfield | Home | September 13, 1919 | League Championship |
| Wakefield Trinity v Oldham | Away | September 20, 1919 | League Championship |
| Oldham v St Helens Recs | Home | September 27, 1919 | League Championship |
| Oldham v Halifax | Home | October 11, 1919 | League Championship |
| Hull Kingston Rovers v Oldham | Away | October 13, 1919 | League Championship |
| Wigan v Oldham | Away | October 18, 1919 | League Championship |
| Oldham v St Helens | Home | October 25, 1919 | League Championship |
| Broughton Rangers v Oldham | Away | November 1, 1919 | Lancashire Cup |
| Swinton v Oldham | Away | November 15, 1919 | Lancashire Cup |
| Oldham v Swinton | Home | November 17, 1919 | Lancashire Cup |
| Leeds v Oldham | Away | November 19, 1919 | League Championship |
| Barrow v Oldham | Away | November 22, 1919 | League Championship |
| Oldham v Hull FC | Home | November 29, 1919 | League Championship |
| Rochdale Hornets v Oldham | Neutral | December 6, 1919 | Lancashire Cup |
| Oldham v Widnes | Home | December 13, 1919 | League Championship |
| Oldham v Wigan | Home | December 20, 1919 | League Championship |
| Oldham v Swinton | Home | December 25, 1919 | League Championship |
| Oldham v Broughton Rangers | Home | December 26, 1919 | League Championship |
| Rochdale Hornets v Oldham | Away | December 27, 1919 | League Championship |
| Oldham v Warrington | Home | January 1, 1920 | League Championship |
| Oldham v Leigh | Home | January 3, 1920 | League Championship |
| Leigh v Oldham | Away | January 14, 1920 | League Championship |
| St Helens Recs v Oldham | Away | January 17, 1920 | League Championship |
| Halifax v Oldham | Away | January 24, 1920 | League Championship |
| Oldham v Leeds | Home | January 31, 1920 | League Championship |
| Oldham v Hull Kingston Rovers | Home | February 7, 1920 | League Championship |
| Hull FC v Oldham | Away | February 14, 1920 | League Championship |
| Huddersfield v Oldham | Neutral | March 27, 1920 | Rugby League Challenge Cup |
| Swinton v Oldham | Away | April 2, 1920 | League Championship |
| Rochdale Hornets v Oldham | Away | September 4, 1920 | League Championship |
| Oldham v Halifax | Home | September 11, 1920 | League Championship |
| Oldham v Dewsbury | Home | October 9, 1920 | League Championship |
| Hull FC v Oldham | Away | October 11, 1920 | League Championship |
| Oldham v Leigh | Home | October 16, 1920 | Lancashire Cup |
| Oldham v Huddersfield | Home | October 23, 1920 | League Championship |
| Huddersfield v Oldham | Away | October 30, 1920 | Friendly |
| Wigan v Oldham | Away | November 13, 1920 | League Championship |
| Widnes v Oldham | Away | November 20, 1920 | League Championship |
| Oldham v Widnes | Home | November 27, 1920 | League Championship |
| Oldham v Hull FC | Home | January 3, 1921 | League Championship |
| Oldham v Salford | Home | January 8, 1921 | League Championship |
| Oldham v Rochdale Hornets | Home | January 22, 1921 | League Championship |
| Oldham v Batley | Home | February 5, 1921 | League Championship |
| Leigh v Oldham | Away | March 23, 1921 | League Championship |
| Swinton v Oldham | Away | March 25, 1921 | League Championship |
| Oldham v St Helens | Home | March 26, 1921 | League Championship |
| Huddersfield v Oldham | Away | March 28, 1921 | League Championship |
| Wigan v Oldham | Away | April 2, 1921 | Friendly |
| Cumberland League v Oldham | Away | April 9, 1921 | Friendly |
| Oldham v Leeds | Home | April 11, 1921 | League Championship |
| Rochdale Hornets v Oldham | Away | May 7, 1921 | Infirmary Cup |
| Oldham v Rochdale Hornets | Home | May 13, 1921 | Infirmary Cup |
| Rochdale Hornets v Oldham | Away | October 22, 1921 | Lancashire Cup |
| Oldham v Keighley | Home | October 29, 1921 | League Championship |
| St Helens v Oldham | Away | November 5, 1921 | Lancashire Cup |
| Halifax v Oldham | Away | November 12, 1921 | League Championship |
| Oldham v Barrow | Home | November 19, 1921 | Lancashire Cup |
| Oldham v Australia | Home | November 26, 1921 | Tour Match |
| Warrington v Oldham | Neutral | December 3, 1921 | Lancashire Cup |
| Oldham v Gwyn Thomas's Team | Home | April 10, 1922 | Benefit Match |
| St Helens Recs v Oldham | Away | August 26, 1922 | League Championship |
| Oldham v Broughton Rangers | Home | September 2, 1922 | League Championship |
| Hunslet v Oldham | Away | September 6, 1922 | League Championship |
| Oldham v Rochdale Hornets | Home | September 9, 1922 | Infirmary Cup |
| Oldham v Huddersfield | Home | September 16, 1922 | League Championship |
| Oldham v Leeds | Home | September 23, 1922 | League Championship |
| Hull FC v Oldham | Away | September 30, 1922 | League Championship |
| Wigan Highfield v Oldham | Away | October 7, 1922 | League Championship |
| Oldham v Leigh | Home | March 19, 1923 | League Championship |
| St Helens v Oldham | Away | April 14, 1923 | League Championship |