Mike Elliott
Profile
Mike Elliott arrived at the club, as a seventeen year old, from Blaina in South Wales, making his debut against Wakefield in October, 1962. Although it would be a few more years before he was a first team regular, that match was the start of a seventeen year association with the club.
Mike played occasionally in the centre, but will be best remembered as a right wing threequarter and has the distinction of playing with more centre partners than any other winger in the history of the club. On six occasions (twice shared) he was the leading try scorer in a season for Oldham, which is a club record and his overall total of 153 touchdowns is third behind Alan Davies and Syd Rix on the all time club list. He has made more appearances than any other threequarter, with only Martin Murphy, Jack Read and Joe Ferguson having played more times for the "Roughyeds".
His final match was against Hull on May 7th, 1979. The Humbersiders had to win to complete the season with a 100% league record. This they did, but only after Oldham had put up a tremendous fight before going down 5 – 10. Mike, who ironically played left centre in the game, was made captain for the day.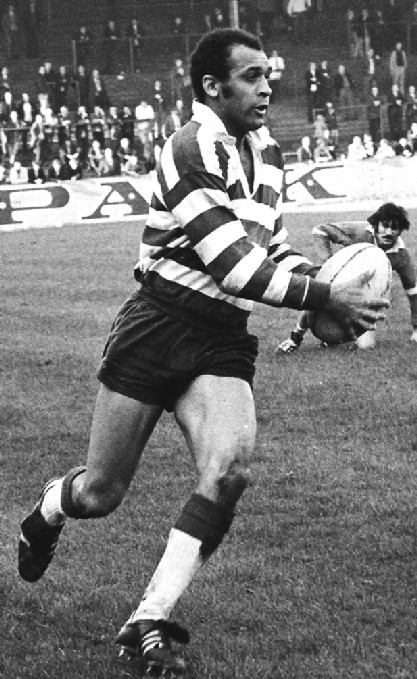 Career Games
| | | | |
| --- | --- | --- | --- |
| Oldham v Wakefield Trinity | Home | October 27, 1962 | Division 1 |
| Wigan v Oldham | Away | November 3, 1962 | Division 1 |
| Huddersfield v Oldham | Away | November 17, 1962 | Division 1 |
| Oldham v Leeds | Home | November 24, 1962 | Division 1 |
| Oldham v Castleford | Home | December 15, 1962 | Division 1 |
| Halifax v Oldham | Away | December 22, 1962 | Division 1 |
| Oldham v Workington Town | Home | April 9, 1963 | Division 1 |
| Swinton v Oldham | Away | April 12, 1963 | Division 1 |
| Oldham v Hull FC | Home | April 15, 1963 | Division 1 |
| Bramley v Oldham | Away | April 19, 1963 | Division 1 |
| Oldham v Swinton | Home | April 23, 1963 | Division 1 |
| Castleford v Oldham | Away | April 27, 1963 | Division 1 |
| Warrington v Oldham | Away | May 9, 1963 | Division 1 |
| Featherstone Rovers v Oldham | Away | May 15, 1963 | Division 1 |
| Oldham v Halifax | Home | May 18, 1963 | Division 1 |
| Oldham v Hull Kingston Rovers | Home | May 21, 1963 | Division 1 |
| Hull FC v Oldham | Away | May 27, 1963 | Division 1 |
| Oldham v Rochdale Hornets | Home | August 17, 1963 | Law Cup |
| Rochdale Hornets v Oldham | Away | August 24, 1963 | Division 2 |
| Oldham v Leigh | Home | August 27, 1963 | Division 2 |
| Oldham v Batley | Home | August 31, 1963 | Division 2 |
| Oldham v Doncaster | Home | October 12, 1963 | Division 2 |
| Oldham v Rochdale Hornets | Home | October 26, 1963 | Western Division |
| Doncaster v Oldham | Away | November 2, 1963 | Division 2 |
| Oldham v York | Home | November 9, 1963 | Division 2 |
| Barrow v Oldham | Away | November 30, 1963 | Western Division |
| Oldham v Bramley | Home | May 6, 1964 | Division 2 |
| Oldham v Barrow | Home | November 7, 1964 | League Championship |
| Huddersfield v Oldham | Away | November 14, 1964 | League Championship |
| Oldham v Wigan | Home | November 21, 1964 | League Championship |
| Salford v Oldham | Away | November 28, 1964 | League Championship |
| Hunslet v Oldham | Away | December 5, 1964 | League Championship |
| Oldham v Hunslet | Home | January 2, 1965 | League Championship |
| Barrow v Oldham | Away | January 9, 1965 | League Championship |
| Warrington v Oldham | Away | January 30, 1965 | League Championship |
| Hunslet v Oldham | Away | February 6, 1965 | Rugby League Challenge Cup |
| Wigan v Oldham | Away | February 20, 1965 | League Championship |
| Oldham v Huddersfield | Home | March 27, 1965 | League Championship |
| Oldham v Blackpool Borough | Home | April 3, 1965 | League Championship |
| Oldham v Workington Town | Home | April 5, 1965 | League Championship |
| Rochdale Hornets v Oldham | Away | April 9, 1965 | League Championship |
| Oldham v Salford | Home | April 13, 1965 | League Championship |
| Swinton v Oldham | Away | April 16, 1965 | League Championship |
| Whitehaven v Oldham | Away | April 17, 1965 | League Championship |
| Oldham v Dewsbury | Home | April 19, 1965 | League Championship |
| Hull Kingston Rovers v Oldham | Away | April 24, 1965 | League Championship |
| Oldham v Oldham Past | Home | May 29, 1965 | Benefit Match |
| Oldham v Rochdale Hornets | Home | August 14, 1965 | Law Cup |
| Oldham v Warrington | Home | August 21, 1965 | League Championship |
| Wigan v Oldham | Away | August 28, 1965 | League Championship |
| Oldham v New Zealand | Home | August 31, 1965 | Tour Match |
| Oldham v Salford | Home | September 25, 1965 | League Championship |
| St Helens v Oldham | Away | October 1, 1965 | League Championship |
| Warrington v Oldham | Away | October 6, 1965 | Lancashire Cup |
| Oldham v Huddersfield | Home | October 9, 1965 | League Championship |
| Swinton v Oldham | Away | October 19, 1965 | BBC |
| Oldham v Wigan | Home | October 22, 1965 | League Championship |
| Oldham v Liverpool City | Home | November 6, 1965 | League Championship |
| Salford v Oldham | Away | November 13, 1965 | League Championship |
| Oldham v Leeds | Home | November 20, 1965 | League Championship |
| Oldham v Castleford | Home | November 23, 1965 | BBC |
| Huddersfield v Oldham | Away | November 27, 1965 | League Championship |
| Leeds v Oldham | Away | December 11, 1965 | League Championship |
| Oldham v Widnes | Home | December 18, 1965 | League Championship |
| Hunslet v Oldham | Away | January 1, 1966 | League Championship |
| Barrow v Oldham | Away | March 31, 1966 | League Championship |
| Oldham v Workington Town | Home | April 23, 1966 | League Championship |
| Workington Town v Oldham | Away | April 30, 1966 | Top 16 |
| St Helens v Oldham | Away | May 7, 1966 | Top 16 |
| Hull FC v Oldham | Away | August 20, 1966 | League Championship |
| Oldham v Blackpool Borough | Home | August 23, 1966 | League Championship |
| Oldham v Hull FC | Home | August 27, 1966 | League Championship |
| Oldham v Swinton | Home | September 2, 1966 | Lancashire Cup |
| Salford v Oldham | Away | September 9, 1966 | League Championship |
| Whitehaven v Oldham | Away | October 22, 1966 | League Championship |
| Widnes v Oldham | Away | November 22, 1966 | BBC |
| Oldham v Leeds | Home | November 25, 1966 | League Championship |
| Workington Town v Oldham | Away | December 3, 1966 | League Championship |
| Oldham v Barrow | Home | December 10, 1966 | League Championship |
| Leigh v Oldham | Away | December 14, 1966 | League Championship |
| Oldham v Leigh | Home | December 17, 1966 | League Championship |
| Huddersfield v Oldham | Away | December 24, 1966 | League Championship |
| Rochdale Hornets v Oldham | Away | December 27, 1966 | League Championship |
| Oldham v Warrington | Home | December 31, 1966 | League Championship |
| Barrow v Oldham | Away | January 14, 1967 | League Championship |
| Oldham v Salford | Home | January 21, 1967 | League Championship |
| St Helens v Oldham | Away | January 27, 1967 | League Championship |
| Oldham v Workington Town | Home | February 11, 1967 | League Championship |
| Oldham v St Helens | Home | February 17, 1967 | League Championship |
| Oldham v Leeds | Home | February 25, 1967 | Rugby League Challenge Cup |
| Widnes v Oldham | Away | March 3, 1967 | League Championship |
| Oldham v Huddersfield | Home | March 11, 1967 | League Championship |
| Wigan v Oldham | Away | March 18, 1967 | League Championship |
| Swinton v Oldham | Away | March 24, 1967 | League Championship |
| Oldham v Widnes | Home | March 25, 1967 | League Championship |
| Oldham v Halifax | Home | March 27, 1967 | League Championship |
| Rochdale Hornets v Oldham | Away | March 31, 1967 | League Championship |
| Oldham v Swinton | Home | April 7, 1967 | League Championship |
| Oldham v Whitehaven | Home | September 2, 1967 | League Championship |
| Blackpool Borough v Oldham | Away | September 4, 1967 | League Championship |
| Swinton v Oldham | Away | September 7, 1967 | Lancashire Cup |
| Warrington v Oldham | Away | September 9, 1967 | League Championship |
| Oldham v Rochdale Hornets | Home | September 16, 1967 | League Championship |
| Whitehaven v Oldham | Away | September 23, 1967 | League Championship |
| Oldham v Wigan | Home | September 30, 1967 | League Championship |
| Oldham v Hull Kingston Rovers | Home | October 3, 1967 | League Championship |
| Oldham v Bradford Northern | Home | October 14, 1967 | League Championship |
| Salford v Oldham | Away | October 20, 1967 | League Championship |
| Oldham v Blackpool Borough | Home | October 28, 1967 | League Championship |
| Swinton v Oldham | Away | December 26, 1967 | League Championship |
| Oldham v Barrow | Home | December 30, 1967 | League Championship |
| Workington Town v Oldham | Away | January 1, 1968 | League Championship |
| Batley v Oldham | Away | January 6, 1968 | League Championship |
| Oldham v St Helens | Home | January 20, 1968 | League Championship |
| Wigan v Oldham | Away | January 22, 1968 | League Championship |
| Barrow v Oldham | Away | January 26, 1968 | League Championship |
| Hunslet v Oldham | Away | February 3, 1968 | Rugby League Challenge Cup |
| Oldham v Batley | Home | February 14, 1968 | League Championship |
| Bradford Northern v Oldham | Away | February 24, 1968 | Rugby League Challenge Cup |
| Oldham v Bradford Northern | Home | February 29, 1968 | Rugby League Challenge Cup |
| Rochdale Hornets v Oldham | Away | March 3, 1968 | League Championship |
| Oldham v Workington Town | Home | March 9, 1968 | League Championship |
| Oldham v Leeds | Home | March 16, 1968 | Rugby League Challenge Cup |
| Oldham v Leigh | Home | March 29, 1968 | League Championship |
| Hull Kingston Rovers v Oldham | Away | April 6, 1968 | League Championship |
| Oldham v Warrington | Home | April 8, 1968 | League Championship |
| Huddersfield v Oldham | Away | August 17, 1968 | League Championship |
| Oldham v Blackpool Borough | Home | August 19, 1968 | League Championship |
| Oldham v Featherstone Rovers | Home | August 24, 1968 | League Championship |
| Rochdale Hornets v Oldham | Away | August 28, 1968 | League Championship |
| Workington Town v Oldham | Away | August 31, 1968 | League Championship |
| Rochdale Hornets v Oldham | Away | September 6, 1968 | Lancashire Cup |
| Blackpool Borough v Oldham | Away | September 9, 1968 | League Championship |
| Hunslet v Oldham | Away | September 14, 1968 | League Championship |
| Oldham v Workington Town | Home | September 16, 1968 | Lancashire Cup |
| Oldham v Wigan | Home | September 21, 1968 | League Championship |
| Doncaster v Oldham | Away | September 28, 1968 | League Championship |
| Oldham v Huddersfield | Home | October 5, 1968 | League Championship |
| Salford v Oldham | Away | October 9, 1968 | Lancashire Cup |
| Rochdale Hornets v Oldham | Away | October 15, 1968 | BBC |
| Oldham v Widnes | Home | October 19, 1968 | League Championship |
| St Helens v Oldham | Neutral | October 25, 1968 | Lancashire Cup |
| Salford v Oldham | Away | October 30, 1968 | League Championship |
| Wigan v Oldham | Away | November 9, 1968 | League Championship |
| Oldham v Warrington | Home | November 15, 1968 | League Championship |
| Whitehaven v Oldham | Away | December 1, 1968 | League Championship |
| Oldham v Hunslet | Home | December 7, 1968 | League Championship |
| Widnes v Oldham | Away | December 20, 1968 | League Championship |
| Oldham v Whitehaven | Home | December 22, 1968 | League Championship |
| Oldham v Huyton | Home | January 4, 1969 | League Championship |
| Warrington v Oldham | Away | January 8, 1969 | League Championship |
| Huyton v Oldham | Away | January 11, 1969 | League Championship |
| Oldham v Salford | Home | January 18, 1969 | League Championship |
| Oldham v Hull Kingston Rovers | Home | January 25, 1969 | Rugby League Challenge Cup |
| Leigh v Oldham | Away | February 1, 1969 | League Championship |
| Oldham v St Helens | Home | February 25, 1969 | Rugby League Challenge Cup |
| Oldham v Workington Town | Home | March 1, 1969 | League Championship |
| Oldham v Leigh | Home | March 3, 1969 | League Championship |
| Oldham v Barrow | Home | March 8, 1969 | League Championship |
| Oldham v Swinton | Home | March 11, 1969 | League Championship |
| Leigh v Oldham | Away | March 18, 1969 | League Championship |
| St Helens v Oldham | Away | March 28, 1969 | League Championship |
| Swinton v Oldham | Away | April 4, 1969 | League Championship |
| Oldham v Rochdale Hornets | Home | April 7, 1969 | League Championship |
| Barrow v Oldham | Away | April 11, 1969 | League Championship |
| Oldham v St Helens | Home | April 15, 1969 | League Championship |
| Oldham v Doncaster | Home | April 17, 1969 | League Championship |
| Leeds v Oldham | Away | April 25, 1969 | League Championship |
| Oldham v Warrington | Home | August 23, 1969 | League Championship |
| Bradford Northern v Oldham | Away | August 27, 1969 | League Championship |
| Workington Town v Oldham | Away | August 30, 1969 | League Championship |
| Oldham v Keighley | Home | September 6, 1969 | League Championship |
| Blackpool Borough v Oldham | Away | September 8, 1969 | League Championship |
| Wigan v Oldham | Away | September 13, 1969 | League Championship |
| Oldham v Huyton | Home | September 20, 1969 | League Championship |
| Oldham v Rochdale Hornets | Home | September 22, 1969 | League Championship |
| Warrington v Oldham | Away | September 26, 1969 | League Championship |
| Oldham v Workington Town | Home | October 4, 1969 | League Championship |
| Keighley v Oldham | Away | October 11, 1969 | League Championship |
| Oldham v Rochdale Hornets | Home | October 13, 1969 | BBC |
| Barrow v Oldham | Away | October 24, 1969 | League Championship |
| Oldham v Whitehaven | Home | November 1, 1969 | League Championship |
| Leigh v Oldham | Away | November 8, 1969 | League Championship |
| Wigan v Oldham | Away | November 11, 1969 | BBC |
| Oldham v Widnes | Home | November 16, 1969 | League Championship |
| St Helens v Oldham | Away | November 22, 1969 | League Championship |
| Oldham v Wigan | Home | December 13, 1969 | League Championship |
| Swinton v Oldham | Away | December 26, 1969 | League Championship |
| Oldham v Huddersfield | Home | January 10, 1970 | League Championship |
| Huddersfield v Oldham | Away | January 17, 1970 | League Championship |
| Oldham v Barrow | Home | January 24, 1970 | League Championship |
| Whitehaven v Oldham | Away | January 31, 1970 | League Championship |
| Oldham v Blackpool Borough | Home | February 7, 1970 | Rugby League Challenge Cup |
| Oldham v Wigan | Home | February 21, 1970 | Rugby League Challenge Cup |
| Salford v Oldham | Away | February 27, 1970 | League Championship |
| Huyton v Oldham | Away | March 18, 1970 | League Championship |
| Oldham v Blackpool Borough | Home | March 23, 1970 | League Championship |
| Rochdale Hornets v Oldham | Away | March 28, 1970 | League Championship |
| Oldham v Halifax | Home | August 8, 1970 | Friendly |
| Oldham v Huddersfield | Home | August 15, 1970 | Friendly |
| York v Oldham | Away | August 22, 1970 | League Championship |
| Oldham v Hunslet | Home | August 26, 1970 | League Championship |
| Oldham v Salford | Home | August 29, 1970 | Lancashire Cup |
| Oldham v Whitehaven | Home | September 21, 1970 | League Championship |
| Oldham v Dewsbury | Home | September 26, 1970 | League Championship |
| Whitehaven v Oldham | Away | September 30, 1970 | League Championship |
| Oldham v Keighley | Home | November 21, 1970 | League Championship |
| Batley v Oldham | Away | November 29, 1970 | League Championship |
| Warrington v Oldham | Away | December 12, 1970 | League Championship |
| Oldham v Huyton | Home | January 9, 1971 | League Championship |
| Oldham v Batley | Home | January 16, 1971 | League Championship |
| Halifax v Oldham | Away | January 30, 1971 | League Championship |
| Keighley v Oldham | Away | February 6, 1971 | League Championship |
| Oldham v Huddersfield | Home | February 10, 1971 | League Championship |
| Oldham v Warrington | Home | February 13, 1971 | League Championship |
| Oldham v Halifax | Home | February 24, 1971 | League Championship |
| Dewsbury v Oldham | Away | March 13, 1971 | League Championship |
| Oldham v Workington Town | Home | March 17, 1971 | League Championship |
| Oldham v Doncaster | Home | March 20, 1971 | League Championship |
| Oldham v Rochdale Hornets | Home | April 9, 1971 | League Championship |
| Hunslet v Oldham | Away | April 10, 1971 | League Championship |
| Bramley v Oldham | Away | April 17, 1971 | League Championship |
| Wigan v Oldham | Away | April 23, 1971 | League Championship |
| Oldham v Salford | Home | July 27, 1971 | Friendly |
| Swinton v Oldham | Away | August 8, 1971 | Lancashire Cup |
| Hunslet v Oldham | Away | August 28, 1971 | League Championship |
| Oldham v Leeds | Home | September 1, 1971 | League Championship |
| Oldham v Wigan | Home | September 8, 1971 | League Championship |
| Leeds v Oldham | Away | September 11, 1971 | League Championship |
| Rochdale Hornets v Oldham | Away | September 15, 1971 | BBC |
| Oldham v Huyton | Home | September 19, 1971 | League Championship |
| Widnes v Oldham | Away | September 24, 1971 | League Championship |
| Oldham v Rochdale Hornets | Home | September 29, 1971 | BBC |
| Oldham v Featherstone Rovers | Home | October 2, 1971 | League Championship |
| Wigan v Oldham | Away | October 8, 1971 | League Championship |
| St Helens v Oldham | Away | October 18, 1971 | League Championship |
| Oldham v Blackpool Borough | Home | October 23, 1971 | League Championship |
| Oldham v New Zealand | Home | October 27, 1971 | Tour Match |
| Oldham v Widnes | Home | October 30, 1971 | League Championship |
| Oldham v Hunslet | Home | November 6, 1971 | League Championship |
| York v Oldham | Away | November 21, 1971 | League Championship |
| Oldham v Leigh | Home | November 28, 1971 | John Players Top Tries |
| Oldham v St Helens | Home | December 4, 1971 | League Championship |
| Oldham v Bradford Northern | Home | December 12, 1971 | League Championship |
| Bradford Northern v Oldham | Away | December 19, 1971 | League Championship |
| Oldham v Rochdale Hornets | Home | December 27, 1971 | League Championship |
| Barrow v Oldham | Away | January 1, 1972 | League Championship |
| Oldham v Swinton | Home | January 8, 1972 | League Championship |
| Whitehaven v Oldham | Away | January 15, 1972 | League Championship |
| Featherstone Rovers v Oldham | Away | January 22, 1972 | League Championship |
| Oldham v St Helens | Home | January 29, 1972 | Rugby League Challenge Cup |
| Blackpool Borough v Oldham | Away | February 26, 1972 | League Championship |
| Oldham v Doncaster | Home | March 4, 1972 | League Championship |
| Oldham v York | Home | March 11, 1972 | League Championship |
| Doncaster v Oldham | Away | March 18, 1972 | League Championship |
| Rochdale Hornets v Oldham | Away | March 22, 1972 | League Championship |
| Oldham v Whitehaven | Home | March 25, 1972 | League Championship |
| Oldham v Warrington | Home | April 5, 1972 | League Championship |
| Bramley v Oldham | Away | April 10, 1972 | League Championship |
| Huyton v Oldham | Away | April 13, 1972 | League Championship |
| Wigan v Oldham | Away | April 22, 1972 | League Championship |
| Huddersfield v Oldham | Away | August 19, 1972 | League Championship |
| Oldham v Whitehaven | Home | August 23, 1972 | League Championship |
| Oldham v Workington Town | Home | August 26, 1972 | League Championship |
| York v Oldham | Away | August 28, 1972 | League Championship |
| Salford v Oldham | Away | September 1, 1972 | Lancashire Cup |
| Oldham v Hull FC | Home | September 10, 1972 | League Championship |
| Huyton v Oldham | Away | September 17, 1972 | League Championship |
| Hull FC v Oldham | Away | September 24, 1972 | Players No.6 Cup |
| Wigan v Oldham | Away | September 29, 1972 | League Championship |
| Oldham v Salford | Home | October 3, 1972 | BBC |
| Oldham v St Helens | Home | October 7, 1972 | League Championship |
| Workington Town v Oldham | Away | October 14, 1972 | League Championship |
| Oldham v Great Britain | Home | October 18, 1972 | Friendly |
| Oldham v Widnes | Home | October 21, 1972 | League Championship |
| Oldham v Huddersfield | Home | November 4, 1972 | League Championship |
| Oldham v Castleford | Home | November 7, 1972 | BBC |
| Oldham v Huyton | Home | November 12, 1972 | League Championship |
| Hull FC v Oldham | Away | November 17, 1972 | League Championship |
| Oldham v Wigan | Home | November 25, 1972 | League Championship |
| St Helens v Oldham | Away | December 1, 1972 | League Championship |
| Leigh v Oldham | Away | December 5, 1972 | BBC |
| Oldham v Salford | Home | December 13, 1972 | League Championship |
| Dewsbury v Oldham | Away | December 17, 1972 | League Championship |
| Oldham v Leigh | Home | December 24, 1972 | League Championship |
| Rochdale Hornets v Oldham | Away | December 26, 1972 | League Championship |
| Warrington v Oldham | Away | December 31, 1972 | League Championship |
| Whitehaven v Oldham | Away | January 6, 1973 | League Championship |
| Oldham v York | Home | January 14, 1973 | League Championship |
| Barrow v Oldham | Away | January 19, 1973 | League Championship |
| Oldham v Barrow | Home | January 28, 1973 | Rugby League Challenge Cup |
| Leigh v Oldham | Away | February 4, 1973 | League Championship |
| Oldham v Blackpool Borough | Home | February 11, 1973 | League Championship |
| Hull FC v Oldham | Away | February 17, 1973 | Rugby League Challenge Cup |
| Widnes v Oldham | Away | February 25, 1973 | League Championship |
| Castleford v Oldham | Away | March 3, 1973 | Rugby League Challenge Cup |
| Oldham v Barrow | Home | March 11, 1973 | League Championship |
| Blackpool Borough v Oldham | Away | March 18, 1973 | League Championship |
| Oldham v Warrington | Home | March 21, 1973 | League Championship |
| Oldham v Dewsbury | Home | April 1, 1973 | League Championship |
| Oldham v Swinton | Home | April 8, 1973 | League Championship |
| Salford v Oldham | Away | April 13, 1973 | League Championship |
| Swinton v Oldham | Away | April 21, 1973 | League Championship |
| Oldham v Rochdale Hornets | Home | April 23, 1973 | League Championship |
| Dewsbury v Oldham | Away | April 29, 1973 | League Championship |
| Leeds v Oldham | Away | August 18, 1973 | Division 1 |
| Oldham v Dewsbury | Home | August 25, 1973 | Division 1 |
| Oldham v Wigan | Home | September 1, 1973 | Lancashire Cup |
| Oldham v Bramley | Home | September 8, 1973 | Division 1 |
| Oldham v Wigan | Home | September 11, 1973 | BBC |
| Warrington v Oldham | Away | September 16, 1973 | Players No.6 Cup |
| Wigan v Oldham | Away | September 18, 1973 | BBC |
| Wakefield Trinity v Oldham | Away | September 23, 1973 | Division 1 |
| Wigan v Oldham | Away | September 29, 1973 | Division 1 |
| Oldham v Whitehaven | Home | October 6, 1973 | Division 1 |
| Oldham v Rochdale Hornets | Home | October 10, 1973 | BBC |
| Dewsbury v Oldham | Away | October 14, 1973 | Division 1 |
| Oldham v Australia | Home | October 19, 1973 | Tour Match |
| Oldham v Castleford | Home | October 24, 1973 | Division 1 |
| Oldham v Widnes | Home | November 11, 1973 | Division 1 |
| Oldham v Wigan | Home | November 25, 1973 | Division 1 |
| Oldham v St Helens | Home | December 8, 1973 | Division 1 |
| Featherstone Rovers v Oldham | Away | December 15, 1973 | Division 1 |
| Oldham v Leigh | Home | December 23, 1973 | Division 1 |
| Oldham v Rochdale Hornets | Home | December 26, 1973 | Division 1 |
| Whitehaven v Oldham | Away | December 30, 1973 | Division 1 |
| Salford v Oldham | Away | January 1, 1974 | Division 1 |
| Oldham v Hull Kingston Rovers | Home | January 6, 1974 | Division 1 |
| Leigh v Oldham | Away | January 13, 1974 | Division 1 |
| Salford v Oldham | Away | February 3, 1974 | Rugby League Challenge Cup |
| Oldham v Wakefield Trinity | Home | February 16, 1974 | Division 1 |
| Oldham v Leeds | Home | March 3, 1974 | Division 1 |
| Widnes v Oldham | Away | March 17, 1974 | Division 1 |
| Hull Kingston Rovers v Oldham | Away | March 24, 1974 | Division 1 |
| Warrington v Oldham | Away | March 29, 1974 | Division 1 |
| St Helens v Oldham | Away | March 31, 1974 | Division 1 |
| Castleford v Oldham | Away | April 7, 1974 | Division 1 |
| Oldham v Salford | Home | April 13, 1974 | Division 1 |
| Rochdale Hornets v Oldham | Away | April 15, 1974 | Division 1 |
| Oldham v Rochdale Hornets | Home | August 17, 1974 | Law Cup |
| Oldham v Blackpool Borough | Home | August 24, 1974 | Division 2 |
| Oldham v Widnes | Home | September 1, 1974 | Lancashire Cup |
| Blackpool Borough v Oldham | Away | September 8, 1974 | Division 2 |
| Oldham v Hull Kingston Rovers | Home | September 10, 1974 | BBC |
| Oldham v Huddersfield | Home | September 14, 1974 | Division 2 |
| Hull Kingston Rovers v Oldham | Away | September 17, 1974 | BBC |
| Hull Kingston Rovers v Oldham | Away | September 20, 1974 | Division 2 |
| Oldham v Workington Town | Home | September 29, 1974 | Players No.6 Cup |
| New Hunslet v Oldham | Away | October 6, 1974 | Division 2 |
| Oldham v Hull FC | Home | October 12, 1974 | Division 2 |
| Whitehaven v Oldham | Away | October 18, 1974 | Division 2 |
| Oldham v Huyton | Home | October 26, 1974 | Division 2 |
| Swinton v Oldham | Away | November 3, 1974 | Division 2 |
| Oldham v Bradford Northern | Home | November 9, 1974 | Players No.6 Cup |
| Oldham v Workington Town | Home | November 16, 1974 | Division 2 |
| Doncaster v Oldham | Away | November 24, 1974 | Division 2 |
| Oldham v Batley | Home | November 30, 1974 | Division 2 |
| Workington Town v Oldham | Away | December 8, 1974 | Division 2 |
| Oldham v Hull Kingston Rovers | Home | December 15, 1974 | Division 2 |
| Huddersfield v Oldham | Away | December 26, 1974 | Division 2 |
| Huyton v Oldham | Away | December 29, 1974 | Division 2 |
| Oldham v New Hunslet | Home | January 5, 1975 | Division 2 |
| Oldham v Doncaster | Home | January 12, 1975 | Division 2 |
| Barrow v Oldham | Away | January 17, 1975 | Division 2 |
| Oldham v Swinton | Home | February 2, 1975 | Division 2 |
| Oldham v Blackpool Borough | Home | February 9, 1975 | Rugby League Challenge Cup |
| Leigh v Oldham | Away | February 16, 1975 | Division 2 |
| Rochdale Hornets v Oldham | Away | February 23, 1975 | Rugby League Challenge Cup |
| Oldham v Rochdale Hornets | Home | February 26, 1975 | Rugby League Challenge Cup |
| Oldham v Whitehaven | Home | March 2, 1975 | Division 2 |
| Oldham v Widnes | Home | March 9, 1975 | Rugby League Challenge Cup |
| Oldham v Leigh | Home | March 15, 1975 | Division 2 |
| Batley v Oldham | Away | March 23, 1975 | Division 2 |
| Oldham v Barrow | Home | April 6, 1975 | Division 2 |
| Hull FC v Oldham | Away | April 20, 1975 | Division 2 |
| Oldham v England | Home | April 22, 1975 | Benefit Match |
| St Helens v Oldham | Away | April 25, 1975 | Premiership |
| Rochdale Hornets v Oldham | Away | August 10, 1975 | Law Cup |
| Oldham v Keighley | Home | August 24, 1975 | Division 1 |
| Oldham v St Helens | Home | August 31, 1975 | Lancashire Cup |
| Featherstone Rovers v Oldham | Away | September 7, 1975 | Division 1 |
| Oldham v Wigan | Home | September 21, 1975 | Division 1 |
| Huyton v Oldham | Away | September 28, 1975 | Players No.6 Cup |
| Oldham v Widnes | Home | September 30, 1975 | BBC |
| Keighley v Oldham | Away | October 5, 1975 | Division 1 |
| Oldham v Huddersfield | Home | October 12, 1975 | Division 1 |
| Leeds v Oldham | Away | October 18, 1975 | Division 1 |
| Wakefield Trinity v Oldham | Away | October 26, 1975 | Division 1 |
| Oldham v Dewsbury | Home | November 2, 1975 | Division 1 |
| Oldham v Australia | Home | November 4, 1975 | Centenary Match |
| Salford v Oldham | Away | November 9, 1975 | Players No.6 Cup |
| Oldham v Dewsbury | Home | November 11, 1975 | BBC |
| Oldham v Salford | Home | November 16, 1975 | Division 1 |
| Oldham v Leeds | Home | November 30, 1975 | Division 1 |
| Huddersfield v Oldham | Away | December 7, 1975 | Division 1 |
| Oldham v St Helens | Home | December 14, 1975 | Division 1 |
| Bradford Northern v Oldham | Away | December 21, 1975 | Division 1 |
| Oldham v Swinton | Home | December 26, 1975 | Division 1 |
| Salford v Oldham | Away | January 1, 1976 | Division 1 |
| Oldham v Castleford | Home | January 4, 1976 | Division 1 |
| Oldham v Hull Kingston Rovers | Home | January 11, 1976 | Division 1 |
| Dewsbury v Oldham | Away | January 18, 1976 | Division 1 |
| St Helens v Oldham | Away | February 8, 1976 | Division 1 |
| Huyton v Oldham | Away | February 15, 1976 | Rugby League Challenge Cup |
| Wigan v Oldham | Away | February 22, 1976 | Division 1 |
| Oldham v York | Home | February 29, 1976 | Rugby League Challenge Cup |
| St Helens v Oldham | Away | March 14, 1976 | Rugby League Challenge Cup |
| Widnes v Oldham | Away | March 21, 1976 | Division 1 |
| Oldham v St Helens | Home | March 24, 1976 | Division 1 |
| Warrington v Oldham | Away | March 30, 1976 | Division 1 |
| Castleford v Oldham | Away | April 2, 1976 | Division 1 |
| Oldham v Featherstone Rovers | Home | April 4, 1976 | Division 1 |
| Oldham v Warrington | Home | April 7, 1976 | Division 1 |
| Oldham v Bradford Northern | Home | April 11, 1976 | Division 1 |
| Hull Kingston Rovers v Oldham | Away | April 16, 1976 | Division 1 |
| Swinton v Oldham | Away | April 19, 1976 | Division 1 |
| Blackpool Borough v Oldham | Away | August 22, 1976 | Lancashire Cup |
| Widnes v Oldham | Away | September 5, 1976 | Division 1 |
| Oldham v Leeds | Home | September 12, 1976 | Division 1 |
| Leigh v Oldham | Away | September 19, 1976 | Division 1 |
| Oldham v Wigan | Home | September 26, 1976 | Division 1 |
| Wakefield Trinity v Oldham | Away | October 3, 1976 | Division 1 |
| Whitehaven v Oldham | Away | October 5, 1976 | BBC |
| Oldham v Barrow | Home | October 10, 1976 | Division 1 |
| Castleford v Oldham | Away | October 15, 1976 | Division 1 |
| Oldham v Batley | Home | October 24, 1976 | Players No.6 Cup |
| Oldham v Bradford Northern | Home | October 31, 1976 | Division 1 |
| Oldham v Leigh | Home | November 7, 1976 | Players No.6 Cup |
| Barrow v Oldham | Away | November 14, 1976 | Division 1 |
| Oldham v St Helens | Home | November 21, 1976 | Division 1 |
| Oldham v Workington Town | Home | November 28, 1976 | Division 1 |
| Oldham v Featherstone Rovers | Home | December 12, 1976 | Division 1 |
| Wigan v Oldham | Away | December 19, 1976 | Division 1 |
| Oldham v Rochdale Hornets | Home | December 26, 1976 | Division 1 |
| Salford v Oldham | Away | January 2, 1977 | Division 1 |
| St Helens v Oldham | Away | January 9, 1977 | Division 1 |
| Workington Town v Oldham | Away | January 31, 1977 | Division 1 |
| Hull Kingston Rovers v Oldham | Away | February 6, 1977 | Division 1 |
| Oldham v Dewsbury | Home | February 13, 1977 | Rugby League Challenge Cup |
| Oldham v Hull Kingston Rovers | Home | February 20, 1977 | Division 1 |
| Oldham v Warrington | Home | February 27, 1977 | Division 1 |
| Featherstone Rovers v Oldham | Away | March 6, 1977 | Division 1 |
| Leeds v Oldham | Away | March 16, 1977 | Division 1 |
| Rochdale Hornets v Oldham | Away | April 8, 1977 | Division 1 |
| Oldham v Leigh | Home | April 11, 1977 | Division 1 |
| Warrington v Oldham | Away | April 17, 1977 | Division 1 |
| Oldham v Widnes | Home | April 24, 1977 | Division 1 |
| Doncaster v Oldham | Away | October 2, 1977 | Division 2 |
| Oldham v Warrington | Home | October 5, 1977 | BBC |
| Oldham v Swinton | Home | October 9, 1977 | Division 2 |
| York v Oldham | Away | January 8, 1978 | Division 2 |
| Oldham v Keighley | Home | January 15, 1978 | Division 2 |
| Oldham v Leigh | Home | January 29, 1978 | Division 2 |
| Batley v Oldham | Away | February 4, 1978 | Division 2 |
| Oldham v Doncaster | Home | February 26, 1978 | Rugby League Challenge Cup |
| Oldham v St Helens | Home | March 12, 1978 | Rugby League Challenge Cup |
| Oldham v Blackpool Borough | Home | March 19, 1978 | Division 2 |
| Rochdale Hornets v Oldham | Away | March 24, 1978 | Division 2 |
| Oldham v Huddersfield | Home | March 27, 1978 | Division 2 |
| Oldham v Halifax | Home | December 10, 1978 | Division 2 |
| Huyton v Oldham | Away | December 17, 1978 | Division 2 |
| Oldham v Swinton | Home | December 26, 1978 | Division 2 |
| Oldham v Ace Amateurs | Home | February 28, 1979 | Rugby League Challenge Cup |
| Oldham v Wakefield Trinity | Home | March 4, 1979 | Rugby League Challenge Cup |
| Oldham v Huyton | Home | March 11, 1979 | Division 2 |
| Oldham v Bramley | Home | March 25, 1979 | Division 2 |
| Blackpool Borough v Oldham | Away | April 1, 1979 | Division 2 |
| Oldham v Doncaster | Home | April 8, 1979 | Division 2 |
| Swinton v Oldham | Away | April 13, 1979 | Division 2 |
| Batley v Oldham | Away | April 15, 1979 | Division 2 |
| New Hunslet v Oldham | Away | April 22, 1979 | Division 2 |
| Dewsbury v Oldham | Away | April 25, 1979 | Division 2 |
| Oldham v Whitehaven | Home | April 29, 1979 | Division 2 |
| Oldham v Hull FC | Home | May 7, 1979 | Division 2 |