Martin Murphy
Profile
Signed in early December 1966, Martin Murphy made his debut against his home town club of Leigh just a few weeks later. When the slightly built full-back took the field on that chilly December Saturday afternoon, I am sure none of the 2,866 spectators present gave him much chance of lasting the game out, never mind the whole season. As it happened, "Murph" didn't play the whole game, having to retire after taking a crunching tackle from opposite number Colin Tyrer which left him needing stitches in his mouth. But typical of his courage he came back to finish the match.
That game was typical of the resolve of Murphy, who went on to finish that season and embark on a career that would span three decades of great service to the "Roughyeds".
He went on to become the leading post war appearance maker for the club and played in every position in the back division. It is, of course, as a full back that Martin will be best remembered, especially for copy-book defence, taking down the heftiest forwards, tricky half backs or speedy threequarters with the same total thoroughness and efficiency. Surely one of the fastest full backs ever to wear the Oldham colours, he won the BBC try of the season award for a long range effort against Leigh in the Floodlit trophy semi final in 1972.
Capped by Lancashire, he also made one appearance for England, scoring a last gasp try to clinch a 11-9 victory against the French in Perpignan on January 19th 1975.
Probably the last of the great clubmen of Oldham RLFC, Martin had the honour to captain the team in the centenary season of 1976-77.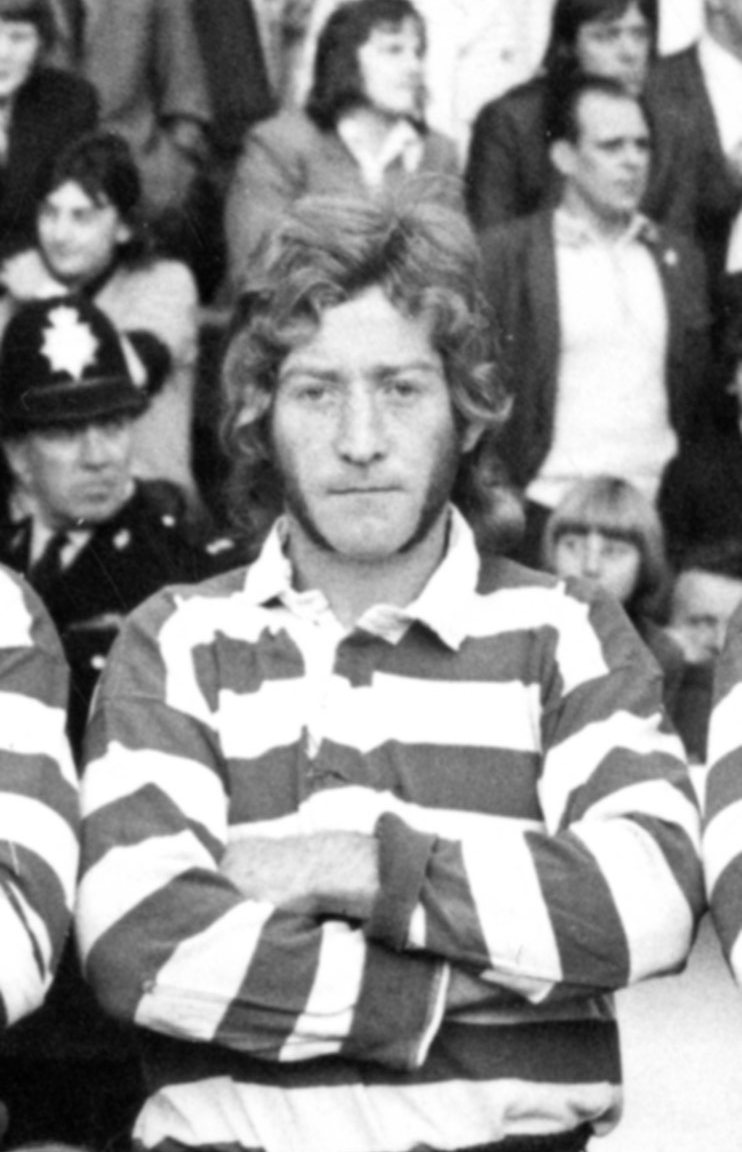 Career Games
| | | | |
| --- | --- | --- | --- |
| Oldham v Leigh | Home | December 17, 1966 | League Championship |
| St Helens v Oldham | Away | January 27, 1967 | League Championship |
| Widnes v Oldham | Away | March 3, 1967 | League Championship |
| Oldham v Huddersfield | Home | March 11, 1967 | League Championship |
| Wigan v Oldham | Away | March 18, 1967 | League Championship |
| Swinton v Oldham | Away | March 24, 1967 | League Championship |
| Oldham v Widnes | Home | March 25, 1967 | League Championship |
| Oldham v Halifax | Home | March 27, 1967 | League Championship |
| Rochdale Hornets v Oldham | Away | March 31, 1967 | League Championship |
| Oldham v Swinton | Home | April 7, 1967 | League Championship |
| Swinton v Oldham | Away | April 15, 1967 | Top 16 |
| Oldham v Swinton | Home | April 18, 1967 | Top 16 |
| Swinton v Oldham | Away | September 7, 1967 | Lancashire Cup |
| Warrington v Oldham | Away | September 9, 1967 | League Championship |
| Oldham v Rochdale Hornets | Home | September 16, 1967 | League Championship |
| Whitehaven v Oldham | Away | September 23, 1967 | League Championship |
| Oldham v Wigan | Home | September 30, 1967 | League Championship |
| Oldham v Hull Kingston Rovers | Home | October 3, 1967 | League Championship |
| Oldham v Bradford Northern | Home | October 14, 1967 | League Championship |
| Salford v Oldham | Away | October 20, 1967 | League Championship |
| Oldham v Blackpool Borough | Home | October 28, 1967 | League Championship |
| Leigh v Oldham | Away | November 4, 1967 | League Championship |
| St Helens v Oldham | Away | November 7, 1967 | BBC |
| Oldham v Australia | Home | November 11, 1967 | Tour Match |
| Oldham v Salford | Home | November 13, 1967 | League Championship |
| Widnes v Oldham | Away | November 17, 1967 | League Championship |
| Oldham v Hull FC | Home | November 25, 1967 | League Championship |
| Liverpool City v Oldham | Away | December 2, 1967 | League Championship |
| St Helens v Oldham | Away | December 16, 1967 | League Championship |
| Swinton v Oldham | Away | December 26, 1967 | League Championship |
| Oldham v Barrow | Home | December 30, 1967 | League Championship |
| Workington Town v Oldham | Away | January 1, 1968 | League Championship |
| Batley v Oldham | Away | January 6, 1968 | League Championship |
| Oldham v St Helens | Home | January 20, 1968 | League Championship |
| Wigan v Oldham | Away | January 22, 1968 | League Championship |
| Barrow v Oldham | Away | January 26, 1968 | League Championship |
| Hunslet v Oldham | Away | February 3, 1968 | Rugby League Challenge Cup |
| Oldham v Batley | Home | February 14, 1968 | League Championship |
| Oldham v Widnes | Home | February 17, 1968 | League Championship |
| Bradford Northern v Oldham | Away | February 24, 1968 | Rugby League Challenge Cup |
| Oldham v Bradford Northern | Home | February 29, 1968 | Rugby League Challenge Cup |
| Oldham v Workington Town | Home | March 9, 1968 | League Championship |
| Oldham v Leeds | Home | March 16, 1968 | Rugby League Challenge Cup |
| Oldham v Leigh | Home | March 29, 1968 | League Championship |
| Hull Kingston Rovers v Oldham | Away | April 6, 1968 | League Championship |
| Oldham v Warrington | Home | April 8, 1968 | League Championship |
| Oldham v Blackpool Borough | Home | August 10, 1968 | Friendly |
| Huddersfield v Oldham | Away | August 17, 1968 | League Championship |
| Oldham v Blackpool Borough | Home | August 19, 1968 | League Championship |
| Workington Town v Oldham | Away | August 31, 1968 | League Championship |
| Rochdale Hornets v Oldham | Away | September 6, 1968 | Lancashire Cup |
| Blackpool Borough v Oldham | Away | September 9, 1968 | League Championship |
| Hunslet v Oldham | Away | September 14, 1968 | League Championship |
| Oldham v Workington Town | Home | September 16, 1968 | Lancashire Cup |
| Oldham v Wigan | Home | September 21, 1968 | League Championship |
| Doncaster v Oldham | Away | September 28, 1968 | League Championship |
| Oldham v Huddersfield | Home | October 5, 1968 | League Championship |
| Salford v Oldham | Away | October 9, 1968 | Lancashire Cup |
| Featherstone Rovers v Oldham | Away | October 12, 1968 | League Championship |
| Rochdale Hornets v Oldham | Away | October 15, 1968 | BBC |
| Oldham v Widnes | Home | October 19, 1968 | League Championship |
| St Helens v Oldham | Neutral | October 25, 1968 | Lancashire Cup |
| Salford v Oldham | Away | October 30, 1968 | League Championship |
| Wigan v Oldham | Away | November 9, 1968 | League Championship |
| Oldham v Warrington | Home | November 15, 1968 | League Championship |
| Whitehaven v Oldham | Away | December 1, 1968 | League Championship |
| Oldham v Hunslet | Home | December 7, 1968 | League Championship |
| Widnes v Oldham | Away | December 20, 1968 | League Championship |
| Oldham v Whitehaven | Home | December 22, 1968 | League Championship |
| Oldham v Huyton | Home | January 4, 1969 | League Championship |
| Warrington v Oldham | Away | January 8, 1969 | League Championship |
| Oldham v Leigh | Home | March 3, 1969 | League Championship |
| Oldham v Barrow | Home | March 8, 1969 | League Championship |
| Leigh v Oldham | Away | March 18, 1969 | League Championship |
| St Helens v Oldham | Away | March 28, 1969 | League Championship |
| Swinton v Oldham | Away | April 4, 1969 | League Championship |
| Oldham v Rochdale Hornets | Home | April 7, 1969 | League Championship |
| Barrow v Oldham | Away | April 11, 1969 | League Championship |
| Oldham v St Helens | Home | April 15, 1969 | League Championship |
| Oldham v Doncaster | Home | April 17, 1969 | League Championship |
| Leeds v Oldham | Away | April 25, 1969 | League Championship |
| Halifax v Oldham | Away | August 2, 1969 | Friendly |
| Oldham v Salford | Home | August 19, 1969 | League Championship |
| Oldham v Warrington | Home | August 23, 1969 | League Championship |
| Bradford Northern v Oldham | Away | August 27, 1969 | League Championship |
| Workington Town v Oldham | Away | August 30, 1969 | League Championship |
| Oldham v Keighley | Home | September 6, 1969 | League Championship |
| Blackpool Borough v Oldham | Away | September 8, 1969 | League Championship |
| Wigan v Oldham | Away | September 13, 1969 | League Championship |
| Oldham v Huyton | Home | September 20, 1969 | League Championship |
| Oldham v Rochdale Hornets | Home | September 22, 1969 | League Championship |
| Warrington v Oldham | Away | September 26, 1969 | League Championship |
| Oldham v Workington Town | Home | October 4, 1969 | League Championship |
| Keighley v Oldham | Away | October 11, 1969 | League Championship |
| Oldham v Rochdale Hornets | Home | October 13, 1969 | BBC |
| Barrow v Oldham | Away | October 24, 1969 | League Championship |
| Oldham v Whitehaven | Home | November 1, 1969 | League Championship |
| Leigh v Oldham | Away | November 8, 1969 | League Championship |
| Wigan v Oldham | Away | November 11, 1969 | BBC |
| Oldham v Widnes | Home | November 16, 1969 | League Championship |
| St Helens v Oldham | Away | November 22, 1969 | League Championship |
| Oldham v Wigan | Home | December 13, 1969 | League Championship |
| Swinton v Oldham | Away | December 26, 1969 | League Championship |
| Oldham v Huddersfield | Home | January 10, 1970 | League Championship |
| Huddersfield v Oldham | Away | January 17, 1970 | League Championship |
| Oldham v Barrow | Home | January 24, 1970 | League Championship |
| Whitehaven v Oldham | Away | January 31, 1970 | League Championship |
| Oldham v Blackpool Borough | Home | February 7, 1970 | Rugby League Challenge Cup |
| Oldham v Wigan | Home | February 21, 1970 | Rugby League Challenge Cup |
| Widnes v Oldham | Away | March 13, 1970 | League Championship |
| Batley v Oldham | Away | March 15, 1970 | League Championship |
| Huyton v Oldham | Away | March 18, 1970 | League Championship |
| Oldham v Blackpool Borough | Home | March 23, 1970 | League Championship |
| Oldham v Swinton | Home | March 27, 1970 | League Championship |
| Rochdale Hornets v Oldham | Away | March 28, 1970 | League Championship |
| Oldham v Bradford Northern | Home | April 3, 1970 | League Championship |
| Oldham v St Helens | Home | April 6, 1970 | League Championship |
| Oldham v Leigh | Home | April 10, 1970 | League Championship |
| Oldham v Batley | Home | April 15, 1970 | League Championship |
| Oldham v Halifax | Home | August 8, 1970 | Friendly |
| Oldham v Huddersfield | Home | August 15, 1970 | Friendly |
| York v Oldham | Away | August 22, 1970 | League Championship |
| Oldham v Hunslet | Home | August 26, 1970 | League Championship |
| Oldham v Salford | Home | August 29, 1970 | Lancashire Cup |
| Barrow v Oldham | Away | September 5, 1970 | League Championship |
| Blackpool Borough v Oldham | Away | September 7, 1970 | League Championship |
| Oldham v Bramley | Home | September 12, 1970 | League Championship |
| Doncaster v Oldham | Away | September 19, 1970 | League Championship |
| Oldham v Whitehaven | Home | September 21, 1970 | League Championship |
| Oldham v Dewsbury | Home | September 26, 1970 | League Championship |
| Whitehaven v Oldham | Away | September 30, 1970 | League Championship |
| Workington Town v Oldham | Away | October 3, 1970 | League Championship |
| Oldham v York | Home | October 10, 1970 | League Championship |
| Huyton v Oldham | Away | October 17, 1970 | League Championship |
| Huddersfield v Oldham | Away | October 23, 1970 | BBC |
| Oldham v Wakefield Trinity | Home | October 26, 1970 | League Championship |
| Oldham v Blackpool Borough | Home | November 2, 1970 | League Championship |
| Wakefield Trinity v Oldham | Away | November 14, 1970 | League Championship |
| Oldham v Keighley | Home | November 21, 1970 | League Championship |
| Batley v Oldham | Away | November 29, 1970 | League Championship |
| Warrington v Oldham | Away | December 12, 1970 | League Championship |
| Oldham v Barrow | Home | December 19, 1970 | League Championship |
| Rochdale Hornets v Oldham | Away | December 26, 1970 | League Championship |
| Oldham v Huyton | Home | January 9, 1971 | League Championship |
| Oldham v Batley | Home | January 16, 1971 | League Championship |
| Leeds v Oldham | Away | January 23, 1971 | Rugby League Challenge Cup |
| Halifax v Oldham | Away | January 30, 1971 | League Championship |
| Keighley v Oldham | Away | February 6, 1971 | League Championship |
| Oldham v Warrington | Home | February 13, 1971 | League Championship |
| Oldham v Halifax | Home | February 24, 1971 | League Championship |
| Dewsbury v Oldham | Away | March 13, 1971 | League Championship |
| Oldham v Workington Town | Home | March 17, 1971 | League Championship |
| Oldham v Doncaster | Home | March 20, 1971 | League Championship |
| Bramley v Oldham | Away | April 17, 1971 | League Championship |
| Wigan v Oldham | Away | April 23, 1971 | League Championship |
| Swinton v Oldham | Away | August 8, 1971 | Lancashire Cup |
| Oldham v Barrow | Home | August 21, 1971 | League Championship |
| Swinton v Oldham | Away | August 25, 1971 | League Championship |
| Hunslet v Oldham | Away | August 28, 1971 | League Championship |
| Oldham v Leeds | Home | September 1, 1971 | League Championship |
| Oldham v Wigan | Home | September 8, 1971 | League Championship |
| Leeds v Oldham | Away | September 11, 1971 | League Championship |
| Rochdale Hornets v Oldham | Away | September 15, 1971 | BBC |
| Oldham v Huyton | Home | September 19, 1971 | League Championship |
| Widnes v Oldham | Away | September 24, 1971 | League Championship |
| Oldham v Rochdale Hornets | Home | September 29, 1971 | BBC |
| Oldham v Featherstone Rovers | Home | October 2, 1971 | League Championship |
| Wigan v Oldham | Away | October 8, 1971 | League Championship |
| St Helens v Oldham | Away | October 18, 1971 | League Championship |
| Oldham v Blackpool Borough | Home | October 23, 1971 | League Championship |
| Oldham v New Zealand | Home | October 27, 1971 | Tour Match |
| Oldham v Widnes | Home | October 30, 1971 | League Championship |
| Oldham v Hunslet | Home | November 6, 1971 | League Championship |
| Whitehaven v Oldham | Away | November 14, 1971 | Players No.6 Cup |
| York v Oldham | Away | November 21, 1971 | League Championship |
| Oldham v Leigh | Home | November 28, 1971 | John Players Top Tries |
| Oldham v St Helens | Home | December 4, 1971 | League Championship |
| Oldham v Bradford Northern | Home | December 12, 1971 | League Championship |
| Bradford Northern v Oldham | Away | December 19, 1971 | League Championship |
| Oldham v Rochdale Hornets | Home | December 27, 1971 | League Championship |
| Barrow v Oldham | Away | January 1, 1972 | League Championship |
| Oldham v Swinton | Home | January 8, 1972 | League Championship |
| Whitehaven v Oldham | Away | January 15, 1972 | League Championship |
| Featherstone Rovers v Oldham | Away | January 22, 1972 | League Championship |
| Oldham v St Helens | Home | January 29, 1972 | Rugby League Challenge Cup |
| Oldham v Bramley | Home | February 5, 1972 | League Championship |
| Warrington v Oldham | Away | February 12, 1972 | League Championship |
| Blackpool Borough v Oldham | Away | February 26, 1972 | League Championship |
| Oldham v Doncaster | Home | March 4, 1972 | League Championship |
| Oldham v York | Home | March 11, 1972 | League Championship |
| Doncaster v Oldham | Away | March 18, 1972 | League Championship |
| Rochdale Hornets v Oldham | Away | March 22, 1972 | League Championship |
| Oldham v Whitehaven | Home | March 25, 1972 | League Championship |
| Oldham v Warrington | Home | April 5, 1972 | League Championship |
| Bramley v Oldham | Away | April 10, 1972 | League Championship |
| Huyton v Oldham | Away | April 13, 1972 | League Championship |
| Wigan v Oldham | Away | April 22, 1972 | League Championship |
| Oldham v Rochdale Hornets | Home | August 12, 1972 | Law Cup |
| Huddersfield v Oldham | Away | August 19, 1972 | League Championship |
| Oldham v Whitehaven | Home | August 23, 1972 | League Championship |
| Oldham v Workington Town | Home | August 26, 1972 | League Championship |
| York v Oldham | Away | August 28, 1972 | League Championship |
| Salford v Oldham | Away | September 1, 1972 | Lancashire Cup |
| Oldham v Hull FC | Home | September 10, 1972 | League Championship |
| Huyton v Oldham | Away | September 17, 1972 | League Championship |
| Hull FC v Oldham | Away | September 24, 1972 | Players No.6 Cup |
| Wigan v Oldham | Away | September 29, 1972 | League Championship |
| Oldham v Salford | Home | October 3, 1972 | BBC |
| Oldham v St Helens | Home | October 7, 1972 | League Championship |
| Workington Town v Oldham | Away | October 14, 1972 | League Championship |
| Oldham v Great Britain | Home | October 18, 1972 | Friendly |
| Oldham v Widnes | Home | October 21, 1972 | League Championship |
| Oldham v Huddersfield | Home | November 4, 1972 | League Championship |
| Oldham v Castleford | Home | November 7, 1972 | BBC |
| Oldham v Huyton | Home | November 12, 1972 | League Championship |
| Hull FC v Oldham | Away | November 17, 1972 | League Championship |
| Oldham v Wigan | Home | November 25, 1972 | League Championship |
| St Helens v Oldham | Away | December 1, 1972 | League Championship |
| Leigh v Oldham | Away | December 5, 1972 | BBC |
| Oldham v Salford | Home | December 13, 1972 | League Championship |
| Dewsbury v Oldham | Away | December 17, 1972 | League Championship |
| Oldham v Leigh | Home | December 24, 1972 | League Championship |
| Rochdale Hornets v Oldham | Away | December 26, 1972 | League Championship |
| Warrington v Oldham | Away | December 31, 1972 | League Championship |
| Whitehaven v Oldham | Away | January 6, 1973 | League Championship |
| Oldham v York | Home | January 14, 1973 | League Championship |
| Barrow v Oldham | Away | January 19, 1973 | League Championship |
| Oldham v Barrow | Home | January 28, 1973 | Rugby League Challenge Cup |
| Leigh v Oldham | Away | February 4, 1973 | League Championship |
| Oldham v Blackpool Borough | Home | February 11, 1973 | League Championship |
| Hull FC v Oldham | Away | February 17, 1973 | Rugby League Challenge Cup |
| Dewsbury v Oldham | Away | April 29, 1973 | League Championship |
| Oldham v Dewsbury | Home | August 25, 1973 | Division 1 |
| Oldham v Wigan | Home | September 1, 1973 | Lancashire Cup |
| Oldham v Bramley | Home | September 8, 1973 | Division 1 |
| Warrington v Oldham | Away | September 16, 1973 | Players No.6 Cup |
| Wigan v Oldham | Away | September 18, 1973 | BBC |
| Wakefield Trinity v Oldham | Away | September 23, 1973 | Division 1 |
| Wigan v Oldham | Away | September 29, 1973 | Division 1 |
| Oldham v Whitehaven | Home | October 6, 1973 | Division 1 |
| Oldham v Rochdale Hornets | Home | October 10, 1973 | BBC |
| Dewsbury v Oldham | Away | October 14, 1973 | Division 1 |
| Oldham v Australia | Home | October 19, 1973 | Tour Match |
| Oldham v Castleford | Home | October 24, 1973 | Division 1 |
| Oldham v Featherstone Rovers | Home | November 7, 1973 | Division 1 |
| Oldham v Widnes | Home | November 11, 1973 | Division 1 |
| Oldham v Wigan | Home | November 25, 1973 | Division 1 |
| Oldham v St Helens | Home | December 8, 1973 | Division 1 |
| Featherstone Rovers v Oldham | Away | December 15, 1973 | Division 1 |
| Oldham v Leigh | Home | December 23, 1973 | Division 1 |
| Oldham v Rochdale Hornets | Home | December 26, 1973 | Division 1 |
| Whitehaven v Oldham | Away | December 30, 1973 | Division 1 |
| Salford v Oldham | Away | January 1, 1974 | Division 1 |
| Oldham v Hull Kingston Rovers | Home | January 6, 1974 | Division 1 |
| Leigh v Oldham | Away | January 13, 1974 | Division 1 |
| Oldham v Warrington | Home | January 20, 1974 | Division 1 |
| Salford v Oldham | Away | February 3, 1974 | Rugby League Challenge Cup |
| Bramley v Oldham | Away | February 10, 1974 | Division 1 |
| Oldham v Wakefield Trinity | Home | February 16, 1974 | Division 1 |
| Oldham v Leeds | Home | March 3, 1974 | Division 1 |
| Widnes v Oldham | Away | March 17, 1974 | Division 1 |
| Hull Kingston Rovers v Oldham | Away | March 24, 1974 | Division 1 |
| Warrington v Oldham | Away | March 29, 1974 | Division 1 |
| St Helens v Oldham | Away | March 31, 1974 | Division 1 |
| Castleford v Oldham | Away | April 7, 1974 | Division 1 |
| Oldham v Salford | Home | April 13, 1974 | Division 1 |
| Rochdale Hornets v Oldham | Away | April 15, 1974 | Division 1 |
| Swinton v Oldham | Away | November 3, 1974 | Division 2 |
| Oldham v Bradford Northern | Home | November 9, 1974 | Players No.6 Cup |
| Oldham v Workington Town | Home | November 16, 1974 | Division 2 |
| Doncaster v Oldham | Away | November 24, 1974 | Division 2 |
| Oldham v Batley | Home | November 30, 1974 | Division 2 |
| Workington Town v Oldham | Away | December 8, 1974 | Division 2 |
| Oldham v Hull Kingston Rovers | Home | December 15, 1974 | Division 2 |
| Huddersfield v Oldham | Away | December 26, 1974 | Division 2 |
| Huyton v Oldham | Away | December 29, 1974 | Division 2 |
| Oldham v New Hunslet | Home | January 5, 1975 | Division 2 |
| Oldham v Doncaster | Home | January 12, 1975 | Division 2 |
| Oldham v Swinton | Home | February 2, 1975 | Division 2 |
| Oldham v Blackpool Borough | Home | February 9, 1975 | Rugby League Challenge Cup |
| Leigh v Oldham | Away | February 16, 1975 | Division 2 |
| Rochdale Hornets v Oldham | Away | February 23, 1975 | Rugby League Challenge Cup |
| Oldham v Rochdale Hornets | Home | February 26, 1975 | Rugby League Challenge Cup |
| Oldham v Whitehaven | Home | March 2, 1975 | Division 2 |
| Oldham v Widnes | Home | March 9, 1975 | Rugby League Challenge Cup |
| Oldham v Leigh | Home | March 15, 1975 | Division 2 |
| Batley v Oldham | Away | March 23, 1975 | Division 2 |
| Oldham v Barrow | Home | April 6, 1975 | Division 2 |
| Hull FC v Oldham | Away | April 20, 1975 | Division 2 |
| St Helens v Oldham | Away | April 25, 1975 | Premiership |
| Rochdale Hornets v Oldham | Away | August 10, 1975 | Law Cup |
| Oldham v Keighley | Home | August 24, 1975 | Division 1 |
| Oldham v St Helens | Home | August 31, 1975 | Lancashire Cup |
| Featherstone Rovers v Oldham | Away | September 7, 1975 | Division 1 |
| Oldham v Wigan | Home | September 21, 1975 | Division 1 |
| Huyton v Oldham | Away | September 28, 1975 | Players No.6 Cup |
| Oldham v Widnes | Home | September 30, 1975 | BBC |
| Keighley v Oldham | Away | October 5, 1975 | Division 1 |
| Oldham v Huddersfield | Home | October 12, 1975 | Division 1 |
| Leeds v Oldham | Away | October 18, 1975 | Division 1 |
| Wakefield Trinity v Oldham | Away | October 26, 1975 | Division 1 |
| Oldham v Dewsbury | Home | November 2, 1975 | Division 1 |
| Oldham v Australia | Home | November 4, 1975 | Centenary Match |
| Oldham v Dewsbury | Home | November 11, 1975 | BBC |
| Oldham v Salford | Home | November 16, 1975 | Division 1 |
| Oldham v Leeds | Home | November 30, 1975 | Division 1 |
| Huddersfield v Oldham | Away | December 7, 1975 | Division 1 |
| Oldham v St Helens | Home | December 14, 1975 | Division 1 |
| Bradford Northern v Oldham | Away | December 21, 1975 | Division 1 |
| Oldham v Swinton | Home | December 26, 1975 | Division 1 |
| Salford v Oldham | Away | January 1, 1976 | Division 1 |
| Oldham v Hull Kingston Rovers | Home | January 11, 1976 | Division 1 |
| Dewsbury v Oldham | Away | January 18, 1976 | Division 1 |
| St Helens v Oldham | Away | February 8, 1976 | Division 1 |
| Huyton v Oldham | Away | February 15, 1976 | Rugby League Challenge Cup |
| Wigan v Oldham | Away | February 22, 1976 | Division 1 |
| Oldham v York | Home | February 29, 1976 | Rugby League Challenge Cup |
| Oldham v Wakefield Trinity | Home | March 7, 1976 | Division 1 |
| St Helens v Oldham | Away | March 14, 1976 | Rugby League Challenge Cup |
| Widnes v Oldham | Away | March 21, 1976 | Division 1 |
| Oldham v St Helens | Home | March 24, 1976 | Division 1 |
| Warrington v Oldham | Away | March 30, 1976 | Division 1 |
| Castleford v Oldham | Away | April 2, 1976 | Division 1 |
| Oldham v Featherstone Rovers | Home | April 4, 1976 | Division 1 |
| Oldham v Warrington | Home | April 7, 1976 | Division 1 |
| Oldham v Bradford Northern | Home | April 11, 1976 | Division 1 |
| Hull Kingston Rovers v Oldham | Away | April 16, 1976 | Division 1 |
| Swinton v Oldham | Away | April 19, 1976 | Division 1 |
| Oldham v Widnes | Home | April 25, 1976 | Division 1 |
| Oldham v Rochdale Hornets | Home | August 15, 1976 | Law Cup |
| Blackpool Borough v Oldham | Away | August 22, 1976 | Lancashire Cup |
| Widnes v Oldham | Away | September 5, 1976 | Division 1 |
| Oldham v Leeds | Home | September 12, 1976 | Division 1 |
| Leigh v Oldham | Away | September 19, 1976 | Division 1 |
| Oldham v Wigan | Home | September 26, 1976 | Division 1 |
| Wakefield Trinity v Oldham | Away | October 3, 1976 | Division 1 |
| Whitehaven v Oldham | Away | October 5, 1976 | BBC |
| Oldham v Barrow | Home | October 10, 1976 | Division 1 |
| Castleford v Oldham | Away | October 15, 1976 | Division 1 |
| Oldham v Batley | Home | October 24, 1976 | Players No.6 Cup |
| Oldham v Bradford Northern | Home | October 31, 1976 | Division 1 |
| Hull FC v Oldham | Away | November 2, 1976 | BBC |
| Oldham v Leigh | Home | November 7, 1976 | Players No.6 Cup |
| Barrow v Oldham | Away | November 14, 1976 | Division 1 |
| Oldham v St Helens | Home | November 21, 1976 | Division 1 |
| Oldham v Workington Town | Home | November 28, 1976 | Division 1 |
| Wigan v Oldham | Away | December 19, 1976 | Division 1 |
| Oldham v Rochdale Hornets | Home | December 26, 1976 | Division 1 |
| Salford v Oldham | Away | January 2, 1977 | Division 1 |
| St Helens v Oldham | Away | January 9, 1977 | Division 1 |
| Workington Town v Oldham | Away | January 31, 1977 | Division 1 |
| Hull Kingston Rovers v Oldham | Away | February 6, 1977 | Division 1 |
| Oldham v Dewsbury | Home | February 13, 1977 | Rugby League Challenge Cup |
| Oldham v Hull Kingston Rovers | Home | February 20, 1977 | Division 1 |
| Rochdale Hornets v Oldham | Away | August 7, 1977 | Law Cup |
| Wigan v Oldham | Away | August 21, 1977 | Lancashire Cup |
| Keighley v Oldham | Away | September 4, 1977 | Division 2 |
| Oldham v Barrow | Home | September 11, 1977 | Division 2 |
| Blackpool Borough v Oldham | Away | September 18, 1977 | Division 2 |
| Oldham v Huyton | Home | September 25, 1977 | Division 2 |
| Doncaster v Oldham | Away | October 2, 1977 | Division 2 |
| Oldham v Whitehaven | Home | October 30, 1977 | Division 2 |
| Salford v Oldham | Away | November 1, 1977 | BBC |
| Huddersfield v Oldham | Away | November 6, 1977 | John Player Cup |
| Leigh v Oldham | Away | November 13, 1977 | Division 2 |
| Oldham v Halifax | Home | November 20, 1977 | Division 2 |
| Swinton v Oldham | Away | November 27, 1977 | Division 2 |
| Barrow v Oldham | Away | December 4, 1977 | Division 2 |
| Oldham v Batley | Home | December 11, 1977 | Division 2 |
| Oldham v Rochdale Hornets | Home | December 26, 1977 | Division 2 |
| Huddersfield v Oldham | Away | January 2, 1978 | Division 2 |
| York v Oldham | Away | January 8, 1978 | Division 2 |
| Oldham v Keighley | Home | January 15, 1978 | Division 2 |
| Oldham v Leigh | Home | January 29, 1978 | Division 2 |
| Batley v Oldham | Away | February 4, 1978 | Division 2 |
| Oldham v Doncaster | Home | February 26, 1978 | Rugby League Challenge Cup |
| Whitehaven v Oldham | Away | April 9, 1978 | Division 2 |
| Oldham v York | Home | April 12, 1978 | Division 2 |
| Halifax v Oldham | Away | April 16, 1978 | Division 2 |
| Oldham v Rochdale Hornets XIII | Home | April 27, 1978 | Benefit Match |
| Oldham v Rochdale Hornets | Home | August 6, 1978 | Law Cup |
| St Helens v Oldham | Away | August 13, 1978 | Friendly |
| Salford v Oldham | Away | August 18, 1978 | Lancashire Cup |
| Barrow v Oldham | Away | August 27, 1978 | BBC |
| Oldham v Keighley | Home | September 3, 1978 | Division 2 |
| Hull FC v Oldham | Away | September 10, 1978 | Division 2 |
| Oldham v Dewsbury | Home | September 17, 1978 | Division 2 |
| Hull Kingston Rovers v Oldham | Away | September 24, 1978 | John Player Cup |
| Keighley v Oldham | Away | October 1, 1978 | Division 2 |
| Oldham v New Hunslet | Home | October 8, 1978 | Division 2 |
| Doncaster v Oldham | Away | October 15, 1978 | Division 2 |
| Halifax v Oldham | Away | October 22, 1978 | Division 2 |
| Oldham v Batley | Home | October 29, 1978 | Division 2 |
| Oldham v York | Home | November 12, 1978 | Division 2 |
| Whitehaven v Oldham | Away | November 19, 1978 | Division 2 |
| Oldham v Blackpool Borough | Home | November 26, 1978 | Division 2 |
| Oldham v Halifax | Home | December 10, 1978 | Division 2 |
| Huyton v Oldham | Away | December 17, 1978 | Division 2 |
| Oldham v Swinton | Home | December 26, 1978 | Division 2 |
| Oldham v Ace Amateurs | Home | February 28, 1979 | Rugby League Challenge Cup |
| Oldham v Doncaster | Home | April 8, 1979 | Division 2 |
| Swinton v Oldham | Away | April 13, 1979 | Division 2 |
| Batley v Oldham | Away | April 15, 1979 | Division 2 |
| New Hunslet v Oldham | Away | April 22, 1979 | Division 2 |
| Dewsbury v Oldham | Away | April 25, 1979 | Division 2 |
| Oldham v Whitehaven | Home | April 29, 1979 | Division 2 |
| Oldham v Hull FC | Home | May 7, 1979 | Division 2 |
| Bramley v Oldham | Away | May 13, 1979 | Division 2 |
| York v Oldham | Away | May 20, 1979 | Division 2 |
| Rochdale Hornets v Oldham | Away | August 3, 1979 | Law Cup |
| Oldham v St Helens | Home | August 12, 1979 | Friendly |
| Swinton v Oldham | Away | August 19, 1979 | Lancashire Cup |
| Oldham v Warrington | Home | August 26, 1979 | Lancashire Cup |
| Oldham v Featherstone Rovers | Home | October 7, 1979 | Division 2 |
| Whitehaven v Oldham | Away | October 14, 1979 | Division 2 |
| Oldham v Bramley | Home | October 21, 1979 | Division 2 |
| Huddersfield v Oldham | Away | November 4, 1979 | Division 2 |
| Oldham v Barrow | Home | November 11, 1979 | Division 2 |
| Swinton v Oldham | Away | November 18, 1979 | Division 2 |
| Oldham v Dewsbury | Home | November 25, 1979 | Division 2 |
| Huyton v Oldham | Away | December 2, 1979 | Division 2 |
| Oldham v Batley | Home | December 9, 1979 | Division 2 |
| Dewsbury v Oldham | Away | December 16, 1979 | Division 2 |
| Oldham v Rochdale Hornets | Home | December 26, 1979 | Division 2 |
| Featherstone Rovers v Oldham | Away | December 30, 1979 | Division 2 |
| Oldham v Swinton | Home | January 6, 1980 | Division 2 |
| Keighley v Oldham | Away | January 13, 1980 | Division 2 |
| Halifax v Oldham | Away | January 20, 1980 | Division 2 |
| Dewsbury v Oldham | Away | February 10, 1980 | Rugby League Challenge Cup |
| Oldham v Huddersfield | Home | February 17, 1980 | Division 2 |
| Oldham v Wakefield Trinity | Home | February 24, 1980 | Rugby League Challenge Cup |
| Barrow v Oldham | Away | March 2, 1980 | Division 2 |
| Oldham v Whitehaven | Home | March 9, 1980 | Division 2 |
| Oldham v Keighley | Home | March 16, 1980 | Division 2 |
| Oldham v Doncaster | Home | March 30, 1980 | Division 2 |
| Rochdale Hornets v Oldham | Away | April 4, 1980 | Division 2 |
| Oldham v Halifax | Home | April 9, 1980 | Division 2 |
| Bramley v Oldham | Away | April 20, 1980 | Division 2 |
| Oldham v Rl Select | Home | April 27, 1980 | Benefit Match |
| Oldham v Rochdale Hornets | Home | August 3, 1980 | Law Cup |
| St Helens v Oldham | Away | August 10, 1980 | Friendly |
| Swinton v Oldham | Away | August 17, 1980 | Lancashire Cup |
| Oldham v Salford | Home | August 24, 1980 | Lancashire Cup |
| Oldham v Castleford | Home | August 31, 1980 | Division 1 |
| Bradford Northern v Oldham | Away | September 7, 1980 | Division 1 |
| Oldham v Warrington | Home | September 10, 1980 | Lancashire Cup |
| Oldham v Featherstone Rovers | Home | September 14, 1980 | Division 1 |
| Hull FC v Oldham | Away | September 21, 1980 | Division 1 |
| Leeds v Oldham | Away | September 28, 1980 | Division 1 |
| Oldham v Leigh | Home | October 5, 1980 | Division 1 |
| Widnes v Oldham | Away | October 19, 1980 | Division 1 |
| Oldham v Workington Town | Home | October 26, 1980 | Division 1 |
| Featherstone Rovers v Oldham | Away | November 9, 1980 | Division 1 |
| Oldham v Bradford Northern | Home | November 16, 1980 | Division 1 |
| Salford v Oldham | Away | November 19, 1980 | Division 1 |
| York v Oldham | Away | November 23, 1980 | John Player Cup |
| Wakefield Trinity v Oldham | Away | November 30, 1980 | Division 1 |
| Workington Town v Oldham | Away | December 14, 1980 | Division 1 |
| Oldham v Hull Kingston Rovers | Home | December 21, 1980 | Division 1 |
| St Helens v Oldham | Away | December 26, 1980 | Division 1 |
| Oldham v Hull FC | Home | December 28, 1980 | Division 1 |
| Warrington v Oldham | Away | January 1, 1981 | Division 1 |
| Barrow v Oldham | Away | January 4, 1981 | Division 1 |
| Castleford v Oldham | Away | January 18, 1981 | Division 1 |
| Oldham v Leeds | Home | January 27, 1981 | Division 1 |
| Oldham v Barrow | Home | February 1, 1981 | Division 1 |
| Halifax v Oldham | Away | February 8, 1981 | Division 1 |
| Blackpool Borough v Oldham | Away | February 15, 1981 | Rugby League Challenge Cup |
| Oldham v Workington Town | Home | March 1, 1981 | Rugby League Challenge Cup |
| Oldham v Halifax | Home | March 22, 1981 | Division 1 |
| Rochdale Hornets v Oldham | Away | August 2, 1981 | Law Cup |
| Oldham v St Helens | Home | August 9, 1981 | Friendly |
| Oldham v Salford | Home | August 14, 1981 | Lancashire Cup |
| Oldham v Hunslet | Home | August 30, 1981 | Division 2 |
| Halifax v Oldham | Away | October 4, 1981 | Division 2 |
| Oldham v Keighley | Home | October 11, 1981 | Division 2 |
| Oldham v Doncaster | Home | October 18, 1981 | John Player Cup |
| Dewsbury v Oldham | Away | October 25, 1981 | Division 2 |
| Oldham v Huddersfield | Home | November 1, 1981 | John Player Cup |
| Oldham v Carlisle | Home | November 8, 1981 | Division 2 |
| Oldham v Leeds | Home | November 15, 1981 | John Player Cup |
| Oldham v Halifax | Home | November 22, 1981 | Division 2 |
| Hull FC v Oldham | Neutral | November 29, 1981 | John Player Cup |
| Oldham v Huyton | Home | December 6, 1981 | Division 2 |
| Huyton v Oldham | Away | April 18, 1982 | Division 2 |